White Sox shaky defense remains a mystery
White Sox shaky defense remains a mystery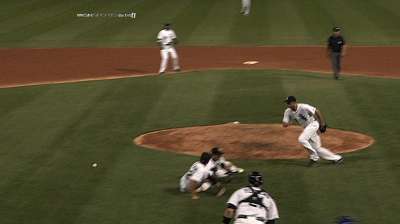 CHICAGO -- If Gordon Beckham had the answer as to why the 2013 White Sox defense has been so miserable, the second baseman would have shared it with the team.
The facts are hard to miss, though. They have allowed 32 unearned runs, after allowing 30 all of last year. They also are on pace to commit 118 errors, compared to a grand total of 70 in 2012, and this by basically the same players who set a franchise-record fielding percentage of .9883 last year.
"I wish I had a good answer for that. You know I think we are all scrambling a little," Beckham said. "There's that thought of like, 'Hey, we haven't been fielding well so let's make all the plays. Let's do all this.' Sometimes when you do that, you just put more pressure on yourself to make a play and usually that kind of backfires on you."
Beckham fell into that trap in the ninth inning of Tuesday's win against the Mets. He raced in from second for what looked like a game-ending pop up to third baseman Conor Gillaspie, tripped over closer Addison Reed and caused a collision that led to the ball falling and the tying run scoring. Beckham stood up and answered all postgame questions about the miscue, but he is far from the only one struggling.
"There's no rhyme or reason. We just haven't played very well," Beckham said. "I don't think it's a lack of focus or a lack of caring. It's just not going the right way.
"People do the work, and they want to win. They want to make the plays. I don't want to see Addison Reed lose a save or Chris Sale lose a game that he could have won. But you know unfortunately that's the way it has gone. And we just got to keep battling and hopefully that's how we turn it around in a big way."
Scott Merkin is a reporter for MLB.com. Read his blog, Merk's Works, and follow him on Twitter @scottmerkin. This story was not subject to the approval of Major League Baseball or its clubs.