Cubs narrowly reverse fortunes in win at Miller Park
Cubs narrowly reverse fortunes in win at Miller Park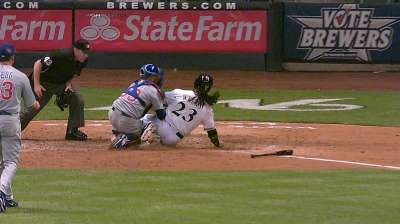 MILWAUKEE -- Yovani Gallardo has been tough on the Cubs. The Brewers have been even tougher. Scooter Gennett was inches away from making Miller Park unbearable. On Wednesday night, the Cubs got the better of them all.
Anthony Rizzo celebrated the one-year anniversary of his call-up to the Cubs by hitting a two-run single, Ryan Sweeney added a solo home run and Kevin Gregg registered his 12th save in 12 tries to post a 5-4 victory against the Brewers, ending a nine-game losing streak at Miller Park.
Milwaukee made it interesting in the ninth. Chicago led, 5-3, before Juan Francisco homered for the second time in as many nights, going deep off the closer Gregg. Rickie Weeks doubled and advanced on a sacrifice, but was forced out at home, despite charging into catcher Welington Castillo like a linebacker. The Cubs were happy to take that out. Gennett then launched a ball to right, and Nate Schierholtz caught it in front of the warning track.
"What an ending," Cubs starter Scott Feldman said. "It was nice to put that one away and keep everyone on their toes."
"I'll have to start shaving my head and face completely so you don't see the gray [hair]," Cubs manager Dale Sveum said. "When that ball left [Gennett's] bat, I ain't lying, I thought it was a homer, especially in this ballpark. I like that kid. He's going to be a good Major League player. I've seen him hit some bombs. That little guy can hit the ball a long way."
Not this time.
"In this park, you never know," Gregg said. "I knew it wasn't hit well and that it wasn't a no-doubter. It plays pretty short over there [in right] at times. Luckily, it stayed in."
Gregg, whom Cubs pitchers say is the calmest person on the planet, didn't get rattled by Francisco's homer.
"We're up two, and you have to attack the strike zone," Gregg said. "He's got to do a lot of things right to hit that ball out, and he did."
"If we win by one every time, great, we win. As a closer, you don't want to give up any runs, but you want to win, first and foremost."
Gregg has been a vast improvement over Carlos Marmol, who began the season as the Cubs' closer but was designated for assignment Tuesday.
"You have a calm [with Gregg], because you know he's not going to implode with walks and stuff like that," Sveum said. "They're going to have to get their hits to beat him. The times that he's given up a run, they've hit the ball. He doesn't walk guys. He knows how to pitch. He knows, 'If I throw stirkes, they have to get hits to beat me.' We've seen many many closers over the years do a nice job just because they don't walk anybody."
Released by the Dodgers after a solid Spring Training, Gregg has filled the vacancy created by Marmol's ineffectiveness and a season-ending injury to Kyuji Fujikawa.
"We're pretty fortunate to have him," Feldman said. "He brings a lot of stability to the back end of the bullpen, and also, just having a veteran like that, who's been through so much adversity and overcome it and is having one of the better seasons in his career right now. You can learn a lot from guys like that."
The Cubs are lucky to have Feldman, who is drawing interest from playoff-bound teams. The right-hander notched his 500th career strikeout when he fanned Jonathan Lucroy to end the third and finished the game with three punchouts.
"There's nothing I can do about it," Feldman said of the trade rumors. "I'd love to stay on this team. I love the guys here. I think we're headed in the right direction. You never know what's going to happen, but it's kind of out of my control at this point. I hope I'm pitching well and I hope I stay here, but it's really out of my control."
Feldman scattered six hits over six innings to help the Cubs win for the second time in seven games against the Brewers this season. Chicago was 4-13 against Milwaukee last year.
"I think he did his job," Sveum said of Feldman, who threw 54 of his 81 pitches for strikes. "I talk about managing innings, and he'll manage an inning when things are starting to go a little haywire. He manages the inning and ends up giving up one instead of a crooked number."
Gallardo entered the game with a 7-2 record and 2.95 ERA against Chicago, but was knocked out after throwing 96 pitches over four innings, his shortest outing in 15 career starts against the Cubs.
Chicago loaded the bases with two out in the first, but Gallardo struck out Brian Bogusevic to end the inning. Castillo singled to lead off the second and scored on Darwin Barney's double. One out later, Luis Valbuena hit an RBI single.
Aramis Ramirez notched his 2,000th career hit with a leadoff home run in the Brewers' second, but Sweeney answered with his fourth home run to open the third and take a 3-1 lead. The Cubs had runners at second and third with one out when Barney flew out to right, and Norichika Aoki fired a strike home to get a tagging Rizzo for a double play. Aoki added a RBI double in the third.
The Cubs loaded the bases again with two out in the fourth, taking advantage of a fielding error by Weeks, and Rizzo delivered a huge two-run single to open a 5-2 lead.
"Once again, we had numerous chances to break that game wide open, and luckily we got one hit out of all that stuff to separate us a little bit," Sveum said.
"I was trying to go up," Gallardo said of his 0-2 pitch to Rizzo in the fourth. "It was a fastball up and in. It was in, but it was down. The other starts that I had, I was commanding that pitch, locating it wherever I wanted to."
The Cubs won at Miller Park for just the third time in 22 games. What was the key moment in the game for Feldman?
"When Nate caught the ball for the final out," Feldman said.
Carrie Muskat is a reporter for MLB.com. She writes a blog, Muskat Ramblings, and you can follow her on Twitter @CarrieMuskat. This story was not subject to the approval of Major League Baseball or its clubs.