Cautious Dodgers give Kemp rest vs. Giants
Cautious Dodgers give Kemp rest vs. Giants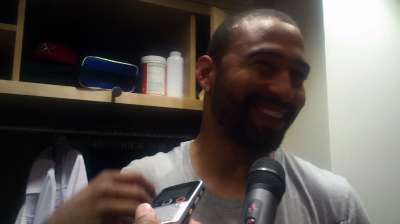 LOS ANGELES -- Matt Kemp was held out of the lineup Wednesday, as the Dodgers play it safe with the center fielder's right hamstring that kept him on the disabled list for nearly a month.
Kemp, who strained his hamstring May 29, was activated Tuesday and played all nine innings against the Giants. He went 1-for-4, scored from second base on a single and sprinted back to the warning track to haul in Marco Scutaro's line drive for the final out in a 6-5 victory.
Tuesday was Kemp's fourth straight game in the outfield, including three Minor League rehab games with Triple-A Albuquerque. The Dodgers want to ease Kemp back into action, like they did when Mark Ellis and Hanley Ramirez returned from DL stints.
"We're going to keep an eye on him and see how he's doing body-wise," Dodgers manager Don Mattingly said before the series finale against San Francisco. "We're just trying to get him over the hump, not play him too many games in a row. It seemed to do good for Mark and it seemed to do good for Hanley."
Kemp said Tuesday he had to beg Mattingly to play. How did Kemp react Wednesday when the manager told him he wasn't starting?
"He looked at me funny," Mattingly said. "But he was good with it today. I was expecting worse. A lot of times you play at the Minor League level and it's not the same energy and it's not the same intensity. I'll bet you he's a little sore today."
Kemp was available off the bench Wednesday, and Mattingly said the former All-Star would likely start all four games of an upcoming series against the Phillies because the Dodgers are off Monday.
Austin Laymance is an associate reporter for MLB.com. This story was not subject to the approval of Major League Baseball or its clubs.