Injured Estrada, Figaro head to Arizona to rehab
Injured Estrada, Figaro head to Arizona to rehab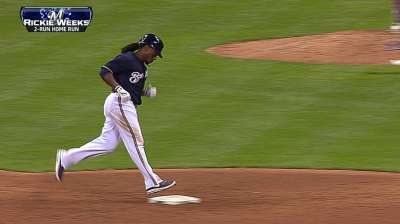 MILWAUKEE -- After suffering a setback in a rehab start Sunday, Marco Estrada will head to Arizona to rehab a hamstring injury that has kept him on the disabled list since June 5. Alfredo Figaro will join Estrada to rehab the right oblique strain he was placed on the 15-day disabled list with on Tuesday.
Estrada left a start against the A's on June 4 and was placed on the 15-day disabled list the next day with a strained left hamstring. He got hit hard in his Sunday rehab start with Class A Wisconsin and felt tightness in his hamstring, forcing the Brewers to freeze his rehab assignment.
Estrada said he will throw a bullpen session in the "next couple days" and hopes to start a game for the Brewers' Arizona League rookie team if things progress well. The right-hander said a realistic goal would be a return before the All-Star break in mid-July.
"I really hope I won't need that much time, but I don't know, who knows," Estrada said. "Maybe by the time the team gets back from this road trip I'd like to be somewhat ready. I don't want to wait any longer than the All-Star break.
"Obviously I'll do it smart, not try and go out and think, 'I can get through this.' I'm going to try and feel everything, and if it hurts, it hurts. I'm just going to have to stop."
Estrada said he will sit down and get back up between a certain number of pitches to mimic a game scenario in his bullpen session. He felt that sitting between innings may have contributed to his hamstring tightening up on Sunday.
"If I can get past 40, 50 pitches, then hopefully they'll give me another start and see how that goes," Estrada said. "Oh yeah, very, very [frustrating]. I'm not sure how soon I would've been ready if I didn't go out and pitch, but it's basically the only way I would've found out."
Brewers manager Ron Roenicke hopes to see Estrada back on the mound soon to help a staff that has seen nine different pitchers start a game this season. The 10th will come Friday, when Johnny Hellweg makes his Major League debut in Pittsburgh.
"Get him to Arizona, get some pitching coach's eyes on him when he's working out," Roenicke said. "Make sure we're done with the injury to the leg, and then see him up on the mound. It's easy to get him in a ballgame there. Get him a couple innings and control him a little bit better."
Kevin Massoth is an associate reporter for MLB.com. This story was not subject to the approval of Major League Baseball or its clubs.