Phillies looking for D. Young to heat up with bat
Phillies looking for D. Young to heat up with bat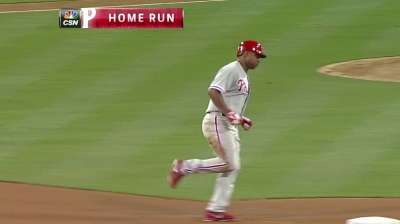 SAN DIEGO -- Phillies manager Charlie Manuel said before Wednesday's game at Petco Park he believes Delmon Young will hit, but he also said the organization cannot wait forever.
Maybe Young heard him. He went 2-for-4 with one double, one home run and two RBIs in the 7-5 victory against the Padres. His two-run home run to left field with two outs in the eighth inning tied the game, 5-5.
"I didn't hear the noise off the bat because it was really loud," said Young, asked if he thought it was gone when he hit it. "Just the way [Padres left fielder Carlos] Quentin approached the ball and knowing we're playing in San Diego, I thought it was going to be one of those high deep flies that gets everyone on their seats and you get the groans right after."
Instead, plenty of cheers from Phillies fans, many of whom congregated behind the visitors' dugout.
"I think that he has to get going," Manuel said beforehand. "I don't know if it's today or tomorrow or two weeks from now or a week or what. Hopefully, we can get him going."
Young entered Wednesday hitting .222 (32-for-144) with six doubles, six home runs, 17 RBIs, a .278 on-base percentage and a .389 slugging percentage. Young recently pointed to his career as a slow starter, giving him confidence he will start to produce in the future.
"He's going to get his swing back," Manuel said. "We definitely needed offense when we called him up and he might have needed more at-bats and stuff like that to get going, but I tell you, he's 27 years old? He's going to get his swing back. When? I don't know. But I think we still have to look at him. I got to think he's definitely a much better hitter than we've seen so far. He just doesn't have his timing, he doesn't have his good swing.
"If you look down at our production and things like that, it's not hard for me to play him. He's got just as good of production as other people."
Phillies general manager Ruben Amaro Jr. said last week the Phillies will continue to give Young a look because they do not have a suitable replacement, although Young has started just 10 of the previous 16 games. Triple-A Lehigh Valley left fielder Darin Ruf is heating up. He has hit .322 (19-for-59) with two doubles, two home runs, 11 RBIs and an .874 OPS in his past 17 games.
Asked if he would be hesitant to move Domonic Brown from left field to right field to make room for Ruf, Manuel said, "He's played both, but I hate to start talking about that until we get there. That's not sending a good message. That's not the right thing to talk about."
Todd Zolecki is a reporter for MLB.com. This story was not subject to the approval of Major League Baseball or its clubs.