Schafer stars in role as Braves' leadoff man
Schafer stars in role as Braves' leadoff man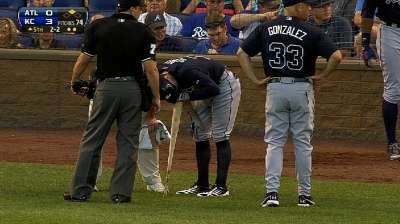 KANSAS CITY -- Jordan Schafer stands as the only legitimate leadoff hitter on Atlanta's roster and he was placed in that role for a fourth straight game on Wednesday night. But when the Braves return home for this weekend's series against the D-backs, manager Fredi Gonzalez will once again have to find ways to get Schafer in his lineup.
Schafer started the final two games of this past weekend's series against the Brewers while Justin Upton was dealing with a sore right hand. His presence in the lineup during this week's two-game series in Kansas City was made possible because the Braves were able to utilize Upton as their designated hitter.
"We'll look at matchups and maybe somebody will need a day off during a day game after a night game, and then we'll run [Schafer] in there," Gonzalez said.
Schafer played two more innings in the field after fouling a pitch off his right ankle during Wednesday's 4-3 loss in 10 innings to the Royals. He exited in the seventh and was relieved when X-rays taken after the game were negative. Gonzalez said he expects the outfielder will be available to play this weekend against the D-backs.
Schafer resuscitated his career while hitting .317 with nine stolen bases and a .406 on-base percentage in the 141 plate appearances he had compiled entering Wednesday's game against the Royals. Once a top prospect in Atlanta's organization, the 26-year-old outfielder rejoined the Braves after the Astros designated him for assignment this past offseason.
In the 19 starts he has made in the leadoff role, Schafer has hit .319 and compiled a .424 on-base percentage. The rest of the Braves who have filled the leadoff spot have combined to hit .227 with a .272 on-base percentage.
But with B.J. Upton, Justin Upton and Jason Heyward manning the three outfield spots, Gonzalez is going to have to find ways to put Schafer in that leadoff spot.
Mark Bowman is a reporter for MLB.com. This story was not subject to the approval of Major League Baseball or its clubs.