Hellweg joins Crew in advance of Friday debut
Hellweg joins Crew in advance of Friday debut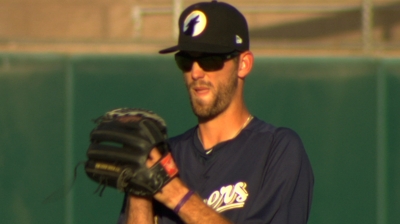 MILWAUKEE -- Brewers right-handed pitching prospect Johnny Hellweg was ready for an off-day golf outing with his Triple-A Nashville teammates on Wednesday.
Instead, Hellweg learned Tuesday that he would join the Brewers a day later to fill Alfredo Figaro's roster spot before making his Major League debut Friday in a start against the Pirates.
Hellweg was happy to lose his off-day.
"They told me I wasn't going to play golf with the team anymore because I had to go to the big leagues," said Hellweg, who learned of the promotion from his coaches after returning to Nashville from the team's four-game series in New Orleans. "It was cool. I was in front of the whole team when they told me, so everyone found out when I did.
"For me, I guess that was a feeling I've never had. It was kind of surreal. I guess the closest I've ever been to floating."
Hellweg returned home from the airport to pack, then went straight back to the airport to fly to Milwaukee on Tuesday night. He arrived at Miller Park at noon Wednesday.
The 6-foot-9, 205-pound righty will be the seventh Brewer to make his Major League debut and the 10th starting pitcher used by the team this season.
Brewers manager Ron Roenicke got a good look at Hellweg in Spring Training and said he has been following the right-hander's progress in Nashville.
"He was going really well for us in the Spring," Roenicke said. "He was throwing strikes, he was working fast. Everything was going as you would hope a guy who's got that kind of stuff would go.
"The first couple years the guy's in the Major Leagues, the mental part is probably a lot more difficult than what they do physically. He's got stuff, there's no question about it. Hopefully the nerves will be intact and he'll do all right. But I sure liked what I saw in Spring Training."
Hellweg got off to a rough start with Nashville this year, but is 6-0 with a 1.64 ERA in his last seven starts. He pitched 44 innings in the span and allowed eight earned runs, five coming in a no-decision on May 21.
Roenicke noted the right-hander's better control of late as a reason for the turnaround. Hellweg walked three or less batters in five of his last six starts, while he walked four or more in six of his first eight.
If he throws strikes at the big league level, Roenicke would like to see Hellweg stick around.
"I'd love it. Some of it is a little bit performance, little bit is with injuries," Roenicke said. "But I'd love for one of the young guys to just step up and really pitch for us like they did last year when they came up. I'm hoping for good things."
Kevin Massoth is an associate reporter for MLB.com. This story was not subject to the approval of Major League Baseball or its clubs.