Petco to host 2013 Perfect Game All-American Classic
Petco to host 2013 Perfect Game All-American Classic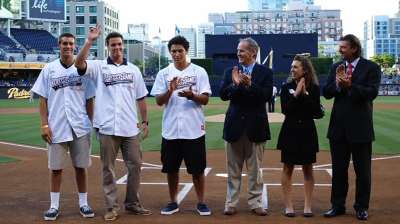 SAN DIEGO -- The 2013 Perfect Game All-American Classic, one of the premier high school baseball games in the country, will take place in San Diego for the sixth time in the past seven years.
Representatives from Perfect Game, the Padres, Rady Children's Hospital and the San Diego Hall of Champions announced on Wednesday that the game will be held on Aug. 11 at Petco Park.
"To celebrate youth baseball is really a priority for the San Diego Padres," said Padres president and chief executive officer Tom Garfinkel.
This year will be the first time the Perfect Game All-American Classic will be broadcast on MLB Network. It will feature three players from local high schools, marking the fifth consecutive year that more than one person from San Diego has been named to the team.
"This may be the finest trio of San Diegans," said Brad Clement, a representative at Perfect Game.
Alex Jackson is a catcher, outfielder and third baseman at Rancho Bernardo High School and is Perfect Game's No. 1 prospect in the U.S. He is committed to Oregon in 2014.
Jackson is joined by pitcher/outfielder Brady Aiken and third baseman/shortstop Sean Bouchard, who are from Cathedral Catholic High School. Perfect Game rates Aiken as the No. 1 left-handed pitcher in California and Bouchard as the No. 3 third baseman. Aiken and Bouchard are both committed to UCLA in 2014.
Sixty-seven players that have appeared in this game have eventually appeared in the Majors, including Padres outfielder Cameron Maybin. The three players also help out at Rady Children's Hospital.
"It means a lot," Bouchard said of the experience. "Playing with the best players in the nation, and also everything that Perfect Game and Rady Children's Hospital does with going to see the kids and giving back to our community. I think that's also a major part of the game.
"It's a lot of fun going out and playing another game and having a good time."
Corey Brock is a reporter for MLB.com. Keep track of @FollowThePadres on Twitter. This story was not subject to the approval of Major League Baseball or its clubs.