Adams honing his approach in part-time role
Adams honing his approach in part-time role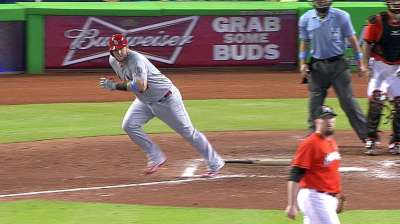 HOUSTON -- Learn by doing. That's the mantra across so many professions or hobbies and generally accepted by most, especially so in sports.
Unless you're Cardinals first baseman Matt Adams, who has taken advantage of his role as a part-time starter and pinch-hitter to hone his approach to the game.
St. Louis manager Mike Matheny has repeatedly said Adams learned everything there is to know down in Triple-A and the 24-year-old absorbs more at the big league level even on nights like Wednesday, when he's not in the lineup.
"Every day, no matter what job, is an opportunity to get better," Matheny said. "I've told Matt it's about the work and effort you put in to do that. He's listening and learning, whether it's in the game situations or carrying yourself as a ballplayer."
For Adams, getting better starts with daily video work. Adams said the amount of video available on pitchers to study is the biggest difference between the Major and Minor League approaches.
"When I get to the park, I'm going to the video room and checking out the entire bullpen every day," Adams said. "If my name's in the lineup that day, I go back and study the starter for an hour or so."
After that, Adams lifts weights and does some early hitting work in the batting cages. After a brief break in the locker room, it's on to pregame infield work and batting practice.
Though Adams has only started 17 games, he's appeared in 22 more as a pinch-hitter, which has helped Matheny's advice to the young slugger truly sink in.
"Skipper just tells me to stay ready," Adams said. "He said it's going to be a tough role to go from being an everyday guy in Triple-A to a bench guy here, so you have to find the motivation all the time outside the diamond. That's what's helped me the most."
Chris Abshire is an associate reporter for MLB.com. This story was not subject to the approval of Major League Baseball or its clubs.