Molina gets break from catching, starts at first base
Molina gets break from catching, starts at first base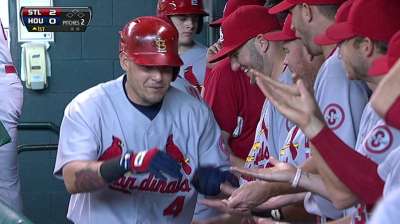 HOUSTON -- Yadier Molina got a day off Wednesday. Well, kind of.
The Cardinals' everyday catcher played first base against the Astros, while Tony Cruz served as the St. Louis backstop. In the first inning, Molina crushed a two-run homer off Houston's Erik Bedard.
"It was trying to get all the righties in the lineup against a lefty while keeping Yadi's bat in the lineup," said manager Mike Matheny.
So why not stick Molina in the lineup as the designated hitter, given that Minute Maid Park is an American League venue?
Matheny said he wanted to make sure Molina could still catch if Cruz got injured or the game situation required it.
"You always need to be careful with the catcher's position so you can have someone available in case of emergency," Matheny said. "Putting Yadi in that DH spot is a little difficult, since he can't just hop back behind the plate."
As the Cardinals hit a stretch of games in American League parks and the season grinds on, Molina could be swapping the catcher's mitt for a first baseman's glove more often. Wednesday marked his first start at first base this season.
Matheny said the team is concerned about overworking Molina, who leads the National League in innings caught.
"We're not looking to set any records here," Matheny said. "It's getting to that time of year where it's heating up and we're going to have to be careful how many innings Yadi plays. His body's been able to handle it so far. We want to keep one of the top bats in baseball in there without limiting our catching options. We had to get a little more creative than usual."
Chris Abshire is an associate reporter for MLB.com. This story was not subject to the approval of Major League Baseball or its clubs.