Royals get positive report on Duffy's victory
Royals get positive report on Duffy's victory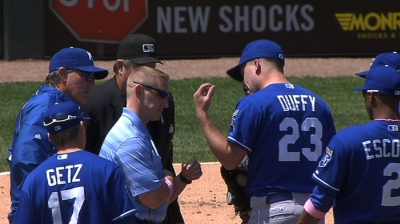 KANSAS CITY -- The Royals got a good report to go with the good statistics on left-hander Danny Duffy's victorious outing for Triple-A Omaha on Tuesday.
Duffy went five shutout innings of a 2-0 win at Oklahoma City in the first game of a doubleheader. He gave up just two hits and one walk with four strikeouts.
"He threw the ball really well," manager Ned Yost said. "A really good curveball, good fastball. Spotted it early. The last inning, he got a little erratic with it but ... "
Duffy's recovery from his Tommy John surgery over a year ago is continuing to go well. This was the best of his seven rehab starts for Double-A Northwest Arkansas and Omaha. His totals in the seven games: 25 2/3 innings, 6.31 ERA, 18 runs, 30 hits, 13 walks and 29 strikeouts.
Right-hander Felipe Paulino was fine on Wednesday after throwing a bullpen session on Tuesday and is expected to resume his Minor League rehab assignment soon. He's also coming back from Tommy John surgery, but was recalled because of a minor back ailment.
Dick Kaegel is a reporter for MLB.com. This story was not subject to the approval of Major League Baseball or its clubs.