Zimmerman downplays shoulder soreness
Zimmerman downplays shoulder soreness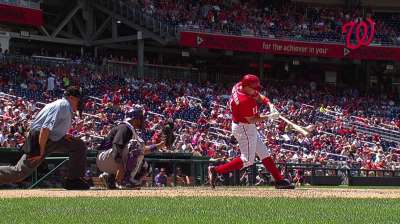 WASHINGTON -- Ryan Zimmerman was left out of the Nationals' lineup on Tuesday because of recent soreness in his surgically repaired right shoulder. Zimmerman said Wednesday that the soreness is not serious, and he backed up that statement by going 2-for-3 with a double in his return to the lineup in Washington's 3-2 win over Arizona.
"We looked at that date for a week to try to give me two days off to kind of help it," Zimmerman explained. "We knew we had this long stretch that's about to come up before the All-Star break, and it's a very important stretch for us, so it just made sense to give me two days right there and be ready to go."
Zimmerman had arthroscopic surgery on the shoulder in October. While the rotator cuff and labrum were not damaged, doctors did have to repair Zimmerman's AC joint.
The injury has not affected the third baseman at the plate, but it has forced him to alter his arm slot when throwing to first. The surgery has been at least partially responsible for his team-high 11 errors this season.
"It's a little bit different to get to where you load and push off your back leg," manager Davey Johnson said. "I see him getting closer and closer to that. It's more of a natural throw, which is what he wanted to do from Day 1 of Spring Training, but I knew it was going to be a long haul."
Zimmerman previously has said that his shoulder is not 100 percent. He expects to be in rehab mode for the rest of the season, and to a lesser extent, the rest of his career.
"Whenever you have any sort of surgery, nothing's guaranteed," Zimmerman said. "For the most part, we haven't had really any bad times, so we've been pretty lucky."
Tom Schad is an associate reporter for MLB.com. This story was not subject to the approval of Major League Baseball or its clubs.