Yanks can't quite close the gap in loss to Rangers
Yanks can't quite close the gap in loss to Rangers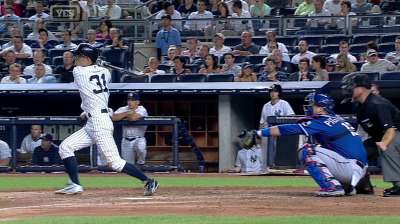 NEW YORK -- Entering Wednesday's game against the Rangers, the Yankees were a Major League-best 24-0 in games where they scored five runs or more. In fact, they hadn't lost a game where they scored at least five runs since Sept. 6, 2012.
Until Wednesday, that is.
The Yankees' bats did enough to earn a win, but their pitchers couldn't hold down the Texas offense. New York lost for the first time in 37 tries in games where it scored at least five runs as the Rangers evened the series with an 8-5 victory.
"For whatever reason, we struggled a little bit," manager Joe Girardi said. "We gave them some extra opportunities tonight that really cost us."
Every time the Yankees put runs on the board, Texas was able to respond not long after. New York scored runs in three innings on Wednesday, and the Rangers put runs on the board in the frame following in two of those innings.
The biggest blows against the Yankees came early in the game. On the same day it was announced Mark Teixeira would undergo season-ending wrist surgery, New York's new full-time first baseman, Lyle Overbay, drilled a home run -- his first since May 25 -- to give his team a 1-0 lead in the second inning.
Texas responded in the third inning, though. Yankees starter Andy Pettitte collided with third baseman Jayson Nix while attempting to field a leadoff but from Leonys Martin, and he seemed to unravel after that.
Pettitte walked Ian Kinsler in the next at-bat, and Elvis Andrus reached on Nix's throwing error to load the bases with no outs. Adrian Beltre and A.J. Pierzynski hit back-to-back two-run doubles after that, and the Rangers had turned a 1-0 deficit into a 4-1 lead.
"That's a killer. That hurts, especially when you pride yourself on going out there and making pitches," Pettitte said. "Right now, it's just not happening for me."
It's the third consecutive start the veteran left-hander has given up more than three runs, allowing four runs (three earned) on six hits while striking out six and walking two. Three of the six hits, all four runs and one of the walks came in the third inning.
"It's the same old story right now for me after every time I pitch, just frustrating," Pettitte said. "Guys battled and fought back and it was good to see them do that, but unfortunately, we couldn't hold them down. They've got a good lineup, and we weren't able to get it."
The Yankees' bullpen didn't fare much better than Pettitte. After New York forced Texas starter Justin Grimm (five innings, six hits, three runs, four strikeouts) out of the game with hits from center fielder Brett Gardner and right fielder Ichiro Suzuki to start the sixth inning, second baseman Robinson Cano and designated hitter Travis Hafner each collected RBI singles in the next two at-bats to cut the Yankees' deficit to 4-3.
But reliever Joba Chamberlain gave both of those runs back in the next frame, giving up a two-run home run to Nelson Cruz.
"It was a good team win," Cruz said. "They have a great team and a good offense. Any time we scored, they found a way to score. But we were able to stay on top of them."
Chamberlain has now allowed runs in five of his last seven appearances, giving up home runs in four of those games.
Girardi said he still has confidence that Chamberlain "can really help us," but admitted the right-hander is struggling right now.
"Obviously, it's frustrating letting the team down," Chamberlain said. "That's the worst part. I know I [stink] right now. There's no getting around it. You've got to figure out what you can do to make it better."
Ichiro hit a two-run homer into the second deck in right field in the bottom of the seventh to cut the Yankees' deficit to 6-5, but they weren't able to close the gap. The Rangers plated two insurance runs off reliever Shawn Kelley after Gardner's error in the ninth inning, and New York went down in order in the bottom of the frame.
The Yankees are now 24-1 in games where they score five runs or more, and with their well-documented struggles on offense, they likely can't afford to lose many more like they did on Wednesday.
"It's just frustrating," Pettitte said. "You want to win. You want to win ballgames, you want to help this team win. A big win last night for us and you're hoping you can come out tonight and put up some zeros, and I'm not putting up zeros for us and just not getting it done right now."
Josh Vitale is an associate reporter for MLB.com. This story was not subject to the approval of Major League Baseball or its clubs.