Mets spot Wheeler pitch-tipping issue
Mets spot Wheeler pitch-tipping issue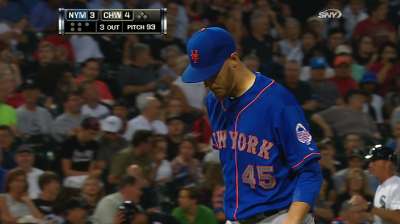 CHICAGO -- It did not take long for Mets manager Terry Collins' cell phone to light up with messages about Zack Wheeler. By the end of Tuesday's game, seemingly everyone was chiming in with evidence that in his second career start, Wheeler tipped his pitches.
"I'm not on Twitter, but I do have an e-mail address and I do get texts." Collins said. "So I got a little indication he might be tipping."
The Mets actually diagnosed the issue themselves, noting that Wheeler was altering his delivery for offspeed pitches. But they refrained from making in-game corrections, wary that Wheeler might overcompensate and have command issues as a result.
Pitching coach Dan Warthen originally sensed that Wheeler also had the issue during his Major League debut in Atlanta, but the rookie's sharp fastball command kept the Braves off balance anyway. That was not the case Tuesday, when the White Sox laid off his bad pitches and jumped on his mistakes.
"I don't know if it's just this level or just last night, but they were laying of a lot of sliders that I thought were good pitches," Wheeler said. "Some of them they probably would have laid off anyway, but some of them I thought were good pitches that they laid off. It's an easy fix. We'll get it fixed before next start."
That process started Tuesday afternoon, when catcher John Buck took Wheeler aside for a more general chat about his first two outings. Warthen plans to work with the rookie during his between-starts bullpen session, hoping to iron out what Wheeler believes should be an easy fix.
"I was totally unaware of it," Wheeler said. "I've never done it before. I haven't seen video or anything of last night so I really don't know what I was doing, but I'll try to fix it."
Hesitant to use the pitch tipping as an excuse for the four runs he gave up in 5 1/3 innings, Wheeler saw the issue more as a reality check.
"This little stuff, guys take advantage up here," Wheeler said. "They're up here for a reason, so they're going to take advantage of every little thing. They're going to pick you apart. It's a little bit tougher up here."
Anthony DiComo is a reporter for MLB.com. Follow him on Twitter @AnthonyDicomo. This story was not subject to the approval of Major League Baseball or its clubs.