Mets will shuffle if Harvey is asked to start All-Star Game
Mets will shuffle if Harvey is asked to start All-Star Game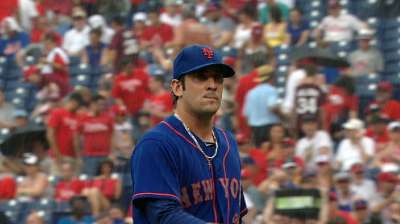 CHICAGO -- If the Mets need to shuffle their rotation around to allow Matt Harvey to start the All-Star Game at Citi Field, they are more than willing to do it.
Harvey is currently scheduled to start the Mets' first-half finale on July 14, which would all but preclude him from pitching in the Midsummer Classic the July 16. All-Star starters traditionally pitch multiple innings, and MLB rules prohibit those who started on the final day of the first half from throwing more than one inning in the All-Star Game.
That could generate a sticky situation for Harvey, who leads the National League in strikeouts and ERA. But thanks to an off-day on July 11, the Mets could start Harvey on regular rest July 13, allowing him to pitch multiple innings in the All-Star Game.
"I don't think there's any question," Collins said when asked if the Mets would alter Harvey's schedule. "We can certainly make some adjustments."
Some teams have grown wary of pushing their aces too hard around the All-Star Game, and the Mets are no exception. But they also understand the gravity of what an All-Star start at Citi Field would mean to Harvey, his team and his fans.
"It might be the only time in your whole life you ever get the opportunity to," Collins said, before correcting himself. "My guess is this guy's going to get a lot of chances to pitch in All-Star Games."
Anthony DiComo is a reporter for MLB.com. Follow him on Twitter @AnthonyDicomo. This story was not subject to the approval of Major League Baseball or its clubs.