Bullpen gets job done as Rangers hold off Yanks
Bullpen gets job done as Rangers hold off Yanks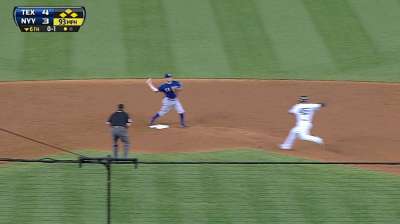 NEW YORK -- The big bats in the middle of the Rangers' order put up some big runs on Wednesday night. The big arms at the end of the increasingly busy Rangers bullpen made it stand up again.
The quartet of Robbie Ross, Neal Cotts, Tanner Scheppers and Joe Nathan have been carrying the Rangers' pitching staff in June -- actually longer -- and they were able to hold off the Yankees on a warm, humid night in the Bronx to preserve an 8-5 victory.
"Any time you can come in here and get a 'W,' that's big," said Nathan, the Rangers' closer, after his 26th save gave Justin Grimm his seventh victory. "It started with Grimm, who came out really sharp, and then we just passed it along trying to get outs. They have a good lineup and can put up runs quickly, especially in this ballpark. But our lineup did a good job, too, continuing to play and scratch out runs."
"It was a good team win," Nelson Cruz said. "They have a great team and a good offense. Any time we scored, they found a way to score. But we were able to stay on top of them. It was a good win."
Grimm earned the victory and is now 7-5 on the season. It was also just the third win by a Rangers starting pitcher in the last 24 games. But Grimm wasn't happy that he lasted just five-plus innings.
"I guess a win is a win," Grimm said. "It was five strong innings, but lately, when I get to the fifth and sixth innings, that's the time I seem to hit a wall. I've got to keep battling and fighting. I'm not happy being a five-and-dive guy. I've got to keep battling. It's something I'll have to figure out."
Ross, Cotts, Scheppers and Nathan pitched the final four innings. They have now combined for 51 of the Rangers' 75 relief appearances in June. Those four are also a combined 14-3 with a 1.37 ERA in 127 appearances this season.
"We're just down there waiting for the phone to ring and have [bullpen coach Andy Hawkins] tell us who's going out there," Scheppers said. "The whole bullpen is talented and doing a good job."
Only Ross stumbled on Wednesday night, giving up a two-run home run to Ichiro Suzuki. It was the first home run given up by Ross this season and only his second career shot allowed to a left-handed hitter. The other was to Nick Markakis of the Orioles on May 8, 2012.
But Ross also got a big double-play grounder to get out of a bases-loaded jam in the sixth at a time when the Rangers were holding a 4-3 lead. Manager Ron Washington knows certain members of his bullpen are carrying a heavy load, but the Rangers are in a tough stretch against some good teams.
"When we're playing a close ballgame, we don't worry about loads, we worry about getting outs," Washington said. "If we could get some air between us and the opposing team, we wouldn't have to worry about carrying that load. But we're just trying to win ballgames."
The bullpen rewarded the work of the offense, especially in the middle of the order. Cruz, Adrian Beltre, A.J. Pierzynski and Lance Berkman were a combined 7-for-20 with three doubles, a home run and seven RBIs.
"We got some big hits at the right time," Washington said. "We just kept fighting. That was what's important. As many runs as you can put up, especially against these guys, you have to do it. What was nice was seeing the middle of the order come up big. We needed that."
Beltre and Pierzynski had a pair of two-run doubles in the third to give the Rangers a 4-1 lead against Yankees starter Andy Pettitte. Grimm took that lead into the sixth inning but then gave up an infield single to Brett Gardner and a double to Ichiro that put runners on second and third.
That's when Washington went to his bullpen.
"I would have liked for Grimm to go longer," Washington said. "I would have liked for him to go nine. But the way they were fighting for their at-bats and coming back, we had to nullify them as best as we could."
Washington brought in Ross, a left-hander, to face the left-handed-hitting heart of the Yankees' order. Left-handed hitters had been batting .244 off him this season, but Robinson Cano drove in one run with a single to left and Travis Hafner brought home another with a single to right.
Ross came back to strike out Lyle Overbay but walked Zoilo Almonte to load the bases. That brought up Jayson Nix, who hit a sharp grounder to shortstop Elvis Andrus, and the Rangers were able to turn an inning-ending double play.
Cruz then responded for the Rangers with a two-run home run in the top of the seventh. Ichiro's home run in the bottom of the seventh made it 6-5, but Cotts struck out Hafner to end the inning and Scheppers sent down the side in order in the eighth.
The Rangers were able to scratch out two more runs in the ninth, taking advantage of Gardner dropping a fly ball in deep left-center. That gave Nathan a three-run lead to protect.
T.R. Sullivan is a reporter for MLB.com. Read his blog, Postcards from Elysian Fields, and follow him on Twitter @Sullivan_Ranger. This story was not subject to the approval of Major League Baseball or its clubs.