Roberts, Reimold recovering, nearing return to Majors
Roberts, Reimold recovering, nearing return to Majors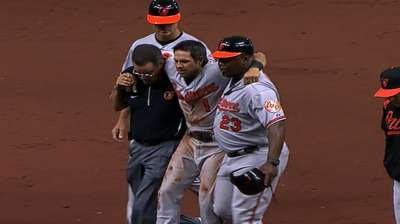 BALTIMORE -- Brian Roberts and Nolan Reimold could be close to finishing their Minor League rehab stints and returning to the Orioles. Both are recovering from right hamstring injuries -- Roberts hasn't played since April 4, and Reimold has been out since May 11.
Roberts went 2-for-4 with a strikeout Tuesday in his rehab game for Triple-A Norfolk. Orioles manager Buck Showalter said Roberts also went first to third on a play and made several nice defensive plays. He walked in both plate appearances in a suspended game Wednesday.
It's possible Roberts could be back in the Orioles lineup by the end of this homestand, but Showalter said that isn't guaranteed.
Reimold is 5-for-33 with three RBIs since joining Double-A Bowie. He also could return by the end of the week, but also isn't a sure thing.
"Anything is possible. I don't want to handicap one as being ahead of the other," Showalter said. "Robbie just ended his first day, and you couldn't ask for a better day."
Derek Wetmore is an associate reporter for MLB.com.. This story was not subject to the approval of Major League Baseball or its clubs.