Felix bounces back, but bats quiet
Felix bounces back, but bats quiet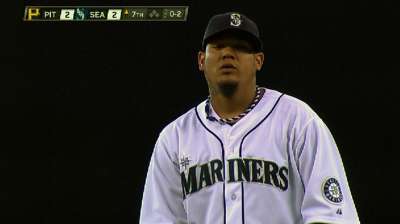 SEATTLE -- Felix Hernandez shrugged off his dismal previous outing, but it was not enough. The perennially struggling Seattle bats fell quiet again Wednesday afternoon, as the Mariners dropped their second game to the Pirates, 4-2.
Seattle stranded 10 runners on base, leaving manager Eric Wedge frustrated with both his rookies and his veterans.
"I'm tired of even talking about approach or mechanics, or this that and the other," Wedge said. "You've got to hit. We can break it down 10 times, and then break it down 10 times again. We've been doing that here for two and a half years."
In his last start, Hernandez had one of the worst outings of his career, blowing a 7-0 lead in Seattle's 10-9 loss to the Angels. The Mariners' ace allowed a season-high 12 hits while striking out two but got a no-decision, thanks to a late but futile surge by Seattle.
On Wednesday, Hernandez struck out 11 batters in seven innings while allowing only two runs. Still, it was not enough for the win thanks to Seattle's tepid hitting and some late hitting by Pittsburgh.
"We've got to hit; it's time to hit," Wedge said. "They got the two-out hit, and we didn't, game over. That's the difference. We've got guys out here that should be doing better."
Pittsburgh starter Jeanmar Gomez lasted just five innings despite allowing only one unearned run. He had five strikeouts.
"For a guy that had been away and had been out a couple times on rehab, [he] wasn't as sharp as when he left," Pirates manager Clint Hurdle said. "[But] he was still effective with his fastball and changeup ... he got to the part of the game we were hoping to get to with the lead."
The Mariners threatened in the third, when catcher Henry Blanco chugged all the way to third base following a Nick Franklin single. But Kyle Seager -- Seattle's leader in two-out RBIs -- struck out to end the inning with runners on the corners.
Neil Walker took Hernandez deep in the fourth, scoring Garrett Jones to give the Pirates a 2-0 lead. Hernandez struck out the side, but it was little consolation after Walker's blast.
"It was behind in the count, trying to throw the sinker," Hernandez said. "It didn't sink, and it was behind the wall."
The Mariners scored in the fourth inning in unusual fashion. Raul Ibanez struck out swinging but made it to first base thanks to a wild pitch. Justin Smoak, the next batter, should have grounded into a double play, but shortstop Jordy Mercer could not reel in the throw, and the ball bounced into shallow left field.
The 41-year old Ibanez recognized the situation immediately and made it to third base, where a sacrifice fly from Michael Saunders brought him home, cutting Pittsburgh's lead to 2-1.
Ibanez then continued his age-defying hot hitting, tying the game at 2 with his 18th home run of the season, a solo shot in the sixth inning. Of those home runs, 16 have come since May 10, including four in the past four games. The veteran is well on pace to break Ted Williams' record of 29 home runs in a season by a player age 41 or older.
"We have to focus on winning as a team," Ibanez said. "We win as a team, we lose as a team, and the ultimate goal each day is to win. Get on base however you can, try to score runs however you can, drive in runs however you can."
Pittsburgh manufactured the winning runs in the ninth by moving Pedro Alvarez around the bases after he got aboard with a single. A sacrifice bunt by Walker moved him to second, and he scored on Mercer's single.
Travis Snider was not far behind, scoring on a wild pitch before the inning was over.
Seattle almost responded, giving Seager runners on the corners with two outs. But the third baseman's sharp grounder was scooped up Gaby Sanchez, who tapped his toe on first base to end the game.
Jacob Thorpe is an associate reporter for MLB.com . This story was not subject to the approval of Major League Baseball or its clubs.