J-Up sparks tying rally, but Braves fall in extras
J-Up sparks tying rally, but Braves fall in extras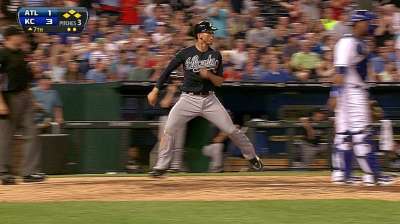 KANSAS CITY -- When the Braves won their first seven road games this season, life outside of Atlanta seemed grand. But over the course of the past two months, they have not experienced too many happy flights back home.
The Braves concluded their latest disappointing road trip with a 4-3 loss in 10 innings to the Royals on Wednesday night at Kauffman Stadium. Alex Gordon's one-out walk-off single against Alex Wood served as the crushing blow on another evening marred by squandered scoring opportunities.
"We definitely got to step it up on the road, because you're not going to win in the playoffs if you can't win games on the road," Braves catcher Gerald Laird said. "We're too good of a team to play like we do on the road. We give ourselves opportunities. But it seems like we've just got to bring a little more energy."
The Braves have lost 23 of the past 36 games they have played outside of Atlanta. They won just twice during this five-game road trip that began with consecutive shutout losses in Milwaukee. Still, despite losing six of their past nine, they returned to Atlanta late Wednesday night with a five-game lead in the National League East standings.
After scoring each of their runs during the game-tying seventh inning, the Braves saw their top setup men Luis Avilan and Jordan Walden keep the Royals scoreless during the next two innings. But the inexperience of the Atlanta bullpen was shown when the rookie Wood was summoned to face the two left-handed hitters the Royals were going to send up in the 10th inning.
The first left-hander David Lough recorded a leadoff single and advanced to second base on Miguel Tejada's sacrifice bunt. This set the stage for Gordon to direct his game-winning, opposite-field single to left field.
Gordon's three-hit performance started with his leadoff home run in Kansas City's two-run first inning against Braves starter Mike Minor. The Royals' left fielder also singled and scored on Billy Butler's two-out single in the third inning.
"That's a great team over there," Royals manager Ned Yost said. "That's a team that's leading their division by four or five games. They've got 45 wins and we matched them pitch-for-pitch every game that we played them. We can compete with them."
One of the primary reasons the Braves have split their past 64 games has been their inability to consistently take advantage of scoring opportunities. Their last threat in this series finale against the Royals was killed when Laird ended the top of the 10th inning with a sharp grounder that resulted in an inning-ending double play.
Braves manager Fredi Gonzalez had the option of pinch hitting left-handed-hitting catcher Brian McCann in that situation against right-handed reliever Aaron Crow. But he opted to stick with Laird, who has entered the game with six hits in 10 at-bats with runners in scoring position.
"Gerald is going to give you a great at-bat," Gonzalez said. "He's shown you that since he's been here right from the very beginning. You're going to have to pinch hit for a guy who is hot and has been swinging it for a guy who has been sitting around for three hours. I felt really, really good about that situation with Gerald at the plate."
Laird was involved in a number of key situations. The most significant occurred in the first inning, when he was unable to handle the strong, pinpoint throw left fielder Jordan Schafer made after fielding Salvador Perez's two-out single. The veteran catcher was empty-handed when he turned to tag Butler.
"It just went right under my glove or between my legs," Laird said. "It's a play I've made a bunch of times. It's a play I've made tons of times. It's just that play that I've made tons of times and just that one time you want to make it, it just doesn't go your way."
Staring at the possibility of being shut out for the third time in their past five games, the Braves broke through against Royals starter Luis Mendoza in their three-run seventh inning. Pinch-hitter Reed Johnson put the Braves on the board with a single off Bruce Chen and Justin Upton greeted Luke Hochevar with a game-tying two-run single to center.
The Braves were fortunate that Johnson crossed the plate just before Heyward was thrown out attempting to advance to third base. But Heyward's decision to take another base ended his team's only productive threat.
Mendoza was in complete control as he limited the Braves to just three hits through the first six innings. The only stress he encountered during this stretch came when Laird's second-inning double put runners at second and third with none out. But the Braves, who entered the game hitting a Major League-worst .225 with runners in scoring position, left the bases loaded in the scoreless frame.
Minor allowed seven of the nine hits he surrendered during the first three innings and then found a groove during his final three innings. While he made some early mistakes, Minor felt he pitched much better than he had while allowing four earned runs in six innings in both of his previous two starts.
"[Minor] threw a good game and kept us in the game," Laird said. "We gave ourselves some scoring opportunities to get back in the game and tie it. But that's a really good bullpen over there. They have one of the better bullpens in the league."
Mark Bowman is a reporter for MLB.com. This story was not subject to the approval of Major League Baseball or its clubs.