Royals follow Gordon's lead in walk-off victory
Royals follow Gordon's lead in walk-off victory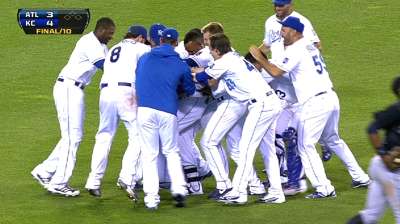 KANSAS CITY - From start to finish, Alex Gordon was the Royals' main man on Wednesday night.
Gordon opened things with a leadoff home run and finished off the 10th with an RBI single to give the Royals a 4-3 walk-off victory over the Atlanta Braves before a crowd of 22,207 at Kauffman Stadium. It was the Royals' fourth walk-off victory this season as they improved to 6-1 in extra-inning games.
David Lough, who entered the game as a pinch-hitter in the ninth, led off the 10th with a single to center field. He advanced on Miguel Tejada's sacrifice bunt and scored the winning run on Gordon's looper to left off reliever Alex Wood.
"David Lough with a great at-bat to start off with the base hit and Miggy with the bunt, and you've just got a good feeling about Alex," manager Ned Yost said. "He started the game with a homer and ended with a base hit. He's come up clutch in those situations for us and did it again tonight."
Despite his own heroics, Gordon said a pregame team meeting may have been the real difference.
"It was a positive meeting and it was a good meeting, and it probably had a little something to do with the game," Gordon said. "We will give the game ball to Ned Yost for his meeting."
Regardless, it was Gordon's third walk-off hit of the season and he's now batting .373 with runners in scoring position.
"I knew they were going to be careful," Gordon said. "If you've got a base open late in the game like that, you're going to not try to give them too much of a hit, so I was trying to stay simple and just get a base hit."
It was a different story in the first when Gordon belted the third pitch from Braves starter Mike Minor over the wall in right-center field.
"He's got good stuff," Gordon said. "The first time I faced him, I had a rough day and I just wanted to see his fastball and cutter. Pretty hard and good velocity and I think he kind of left it middle-middle, and I put a good swing on it."
In their previous meeting, on April 17, Gordon went 0-for-3 against Minor. He was 2-for-3 on Wednesday.
Minor gave up nine hits and three early runs in his six innings. Salvador Perez followed the homer with an RBI single in a two-run first and Billy Butler added an RBI single in the third.
"It's one of those things where I felt I was making good pitches again," Minor said. "There were only three runs on the board. But I felt like they only hit two balls hard. They were the home run and Butler hit the one in the gap."
Gordon provided Kansas City's first game-opening homer since Aug. 11 of last year when he hit one against Baltimore. It was his 10th overall, tying him with Johnny Damon for second place in franchise history behind Willie Wilson and Davis DeJesus, who each had 11.
Gordon was hitting .329 through May, but before Wednesday's game he was just .171 or 13-for-76 in June with two doubles and seven RBIs. He had also gone 159 at-bats between home runs.
"He's said before, 'When I'm struggling, facing a lefty helps me get back on track,'" Yost said. "He's definitely back on track."
Kansas City starter Luis Mendoza, making his first appearance against the Braves, worked 6 2/3 strong innings in a no-decision. However, he ran into trouble in the seventh, as the Braves rallied for three runs to tie the game. Justin Upton's two-run single forced extra innings.
"He pitched great," Yost said. "He left the ballgame with a 3-0 lead and we ended up giving three runs. It's a shame he couldn't take advantage of that win because he deserved it."
Mendoza gave up three singles to start the seventh before being replaced by Bruce Chen with two outs and runners on the corners. Reed Johnson, pinch-hitting for Jordan Schafer, hit a line drive to center field which scored one run and Chen walked Jason Heyward to load the bases. Luke Hochevar then entered the game and gave up Upton's single to center, but center fielder Lorenzo Cain nailed Heyward at third to end the threat.
"It was important for us, not only Hoch," Yost said. "We needed to hold the fort there to get back in the dugout and give us an opportunity to score. Upton's a good hitter and he got a curveball up a little bit against him, and he ended up hitting it into center field. But to come back in the eighth inning saved us the opportunity to use Aaron Crow in the 10th, so it was a big inning for us."
Crow was awarded the win after allowing one hit and one intentional walk in a scoreless 10th inning.
"Mikey threw a good game and kept us in the game," Braves catcher Gerald Laird said. "We gave ourselves some scoring opportunities to get back in the game and tie it. But that's a really good bullpen over there. They have won one of the better bullpens in the league."
Having won two of their last three, the Royals head to Minnesota for an American League Central battle starting on Thursday. The Royals hold a 1 1/2-game lead over the Twins for third place in the division standings.
"These kids are getting better and better as time goes on and I think that throughout the second half, they are going to do that," Yost said. "It's a good feeling to get on a plane after a hard-fought win like that, a walk-off win to boot."
Kathleen Gier is an associate reporter for MLB.com. This story was not subject to the approval of Major League Baseball or its clubs.