Tribe comes through in ninth for clutch comeback
Tribe comes through in ninth for clutch comeback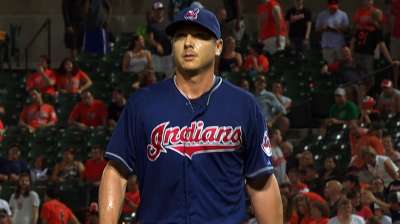 BALTIMORE -- The Indians were three outs away from the kind of defeat that feels like a punch to the gut. Left-hander Scott Kazmir flirted with history in a brilliant outing, only to leave with an injury, and he watched from the dugout as the bullpen let a slim lead slip away.
Thanks to a series of stellar at-bats, and the legs of Drew Stubbs, Cleveland found some of the Camden Yards magic that has typically been reserved for the home team over the past two years. The Tribe's two-run rally against Orioles closer Jim Johnson in the ninth inning helped the club steal a 4-3 win on Wednesday in the third tilt of this four-game set.
It was a satisfying end to a draining night in the Queen City.
"This was one of those games where it would've been a killer loss," Indians manager Terry Francona said. "It ends up being a great win."
For the rolling Tribe, it represented the 10th win in the past 14 games -- a run that has helped pull the Indians back into the thick of the American League Central race. In this victory, Kazmir spun a dominating performance, carrying a no-hitter into the seventh inning before departing with back spasms prior to the start of the eighth.
From the first row of the visitors' dugout, Kazmir watched Baltimore piece together a push that led to a pair of runs against sidearmer Joe Smith, who was unexpectedly forced into duty due to the lefty's minor injury. Manny Machado's two-out laser shot to the wall in left field pushed the Orioles to a 3-2 advantage, but Cleveland would not be denied this win.
"It's just been a dogfight," said Indians interim closer Vinnie Pestano, who picked up his fifth save with a clean ninth inning. "That one game could sum up our entire season: up, and then down, and then up. You can't say enough about the guys in the dugout, going up there fighting and making every out count."
In the ninth and decisive inning, Johnson issued a leadoff walk to Michael Brantley and -- one pitch later -- surrendered the 400th double of veteran Jason Giambi's storied career. Baltimore's closer then intentionally walk pinch-hitter Carlos Santana, setting the stage for a run-scoring fielder's choice from Lonnie Chisenhall.
Chisenhall's hustle up the first-base line pulled the contest into a 3-3 deadlock.
"The leadoff walk," Johnson said. "Obviously, that's pretty much what led to the whole inning."
Stubbs put the final touch on Cleveland's rally by chopping a pitch to Machado. The third baseman scooped up the ball and fired it to second baseman Alexi Casilla with the hope of turning an inning-ending double play. Stubbs, who has the most at-bats (236) in the American League with no double plays, beat Casilla's throw to first by a step, allowing the go-ahead run to score.
"We were joking in the dugout about that," Indians second baseman Jason Kipnis said. "About how they flash that stat up there about how he hasn't grounded into a double play the whole time. I was like, 'This would be a good time for them to flash that stat.'
"If we want anybody up there, it's tough to say, but you almost kind of want him up there, because you know he puts it in play and he's going to beat it out."
Cleveland's only runs against Orioles right-hander Jason Hammel came on a two-run home run by Kipnis in the fourth inning. It marked the 11th blast of the season for Kipnis, who has reached base in 28 straight games for the Tribe. That was all Hammel yielded in his seven innings, during which he scattered four hits and finished with five strikeouts and two walks.
"He keeps hitting that ball with authority to left field," Francona said of Kipnis. "He's strong enough and he's got quick enough bat speed that when he hits the ball that way, he hits for power and production."
Pestano's save gave the Indians the win.
After giving up one hit and one unearned run over seven overpowering innings, Kazmir had to settle for a no-decision.
"That was impressive tonight," Francona sad. "That's a good lineup he faced."
In the eighth inning, Kazmir took the mound to start the inning, but he was quickly met by Francona and head athletic trainer Lonnie Soloff. Kazmir had been fighting back spasms for most of the game, which started one hour and six minutes late due to a rain delay, and the discomfort became too much of a risk by the eighth inning.
Francona said the hope is that the injury is not serious.
"He had pitched too well to make a mistake because of [the soreness] and lose a game," Francona said. "Plus, you're taking a chance you lose him for a while."
Given the way Kazmir has pitched of late -- one earned run over his past 14 innings -- the Indians did not want to roll the dice.
Kazmir was perfect through the first 13 hitters he faced on a muggy night before issuing a four-pitch walk to Orioles catcher Matt Wieters. In the seventh, Machado pulled a 1-1 fastball down the left-field line for a no-doubt double to end Kazmir's no-hitter. Machado later moved to third on a throwing error by Kazmir on a pickoff attempt and scored on a sacrifice fly from Chris Davis.
That was the extent of the damage against Kazmir.
"I was just locked in with what I wanted to do," said Kazmir, who struck out four in the outing. "I'm feeling comfortable where I'm at right now. There's still a lot to work on, but I feel like my delivery is getting a lot more consistent, that's for sure."
The Indians were thrilled to survive the drama that followed.
"Absolutely," Kipnis said. "In the first two games of this series, whoever was leading early in the game lost. Finally, in the third game, we were able to turn it around."
Jordan Bastian is a reporter for MLB.com. Read his blog, Major League Bastian, and follow him on Twitter @MLBastian. This story was not subject to the approval of Major League Baseball or its clubs.