Backed by four-run fourth, Bedard bests Cardinals
Backed by four-run fourth, Bedard bests Cardinals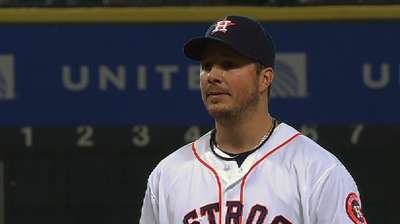 HOUSTON -- Two pitches and about 20 seconds into the Astros-Cardinals matchup Wednesday night, all signs pointed toward the visiting team dominating their former division rival, much like they did the night before.
But a key fourth inning, during which Cards starter Lance Lynn seemingly lost sight of the strike zone while a patient Astros lineup waited him out, erased a few early struggles by veteran lefty Erik Bedard and led Houston to a 4-3 win at Minute Maid Park. The teams split the two-game Interleague series.
Bedard had barely settled in when the first-place Cardinals pounced for two runs. Bedard's first offering to Matt Carpenter resulted in a bunt single, and Yadier Molina sent the next pitch into the Crawford boxes in left. Allen Craig added a solo homer in the fourth to stake St. Louis to a 3-0 lead.
"It happened quick," Houston catcher Jason Castro said of the first inning. "That's something they're capable of. Our job as soon as that did happen was to minimize things and not let it go any farther than that. Erik did a great job of regrouping and continuing to throw the ball well."
Bedard couldn't remember a time in his career that a hitter led off the game with a bunt, but he shrugged off any suggestions that Carpenter's single may have rattled him. He also smirked at the notion that he may have had to make adjustments after giving up the quick two runs.
In other words, none of this fazed the veteran lefty.
"There wasn't much of an adjustment," Bedard said. "It was only two pitches. They got off to a lead early and I just figured I'd do my best to not give up any more."
Added Castro: "He knows exactly what he needs to do. He's a professional out there. He's been doing this a long time. It shows. He didn't get rattled by it. He did his job."
A three-run lead would normally be enough for Lynn, who brought a 10-1 record and a 3.42 ERA into the game. He looked as good as he does on paper through the first three innings, striking out the side in the first and retiring nine of his first 10 batters. But the floodgates opened in the fourth, with nine Houston batters contributing to a four-run frame. Consecutive walks -- one to Chris Carter to load the bases, and one to Carlos Pena to drive in a run -- started a station-to-station rally that included RBI hits by Brett Wallace and Brandon Barnes.
Manager Bo Porter pointed to the walks as the turning point in that frame, especially the one drawn by Carter, whom the skipper has noticed has been making significant progress in terms of pitch selection in the last couple of weeks.
Carter has been a bit of an enigma this year, leading the team in homers with 15, but also in strikeouts with 108, which puts him on pace to exceed the 200-mark. Yet he entered the game having drawn 31 walks, second on the team to Carlos Pena's 35.
"He's been extremely disciplined from the standpoint that he's attacking the pitches that he should attack," Porter said. "He's put together some really good at-bats."
Before this outing, Lynn was nearly unbeatable in Houston. The right-hander not only had a sterling track record overall versus the Astros (4-0, 1.42 ERA), but he was almost as untouchable at Minute Maid Park, boasting three wins and a 2.00 ERA in three starts.
One inning Wednesday altered that course.
"I was throwing those secondary pitches all for balls [in the fourth], so they weren't doing anything productive," Lynn said. "I wanted to give them a different look the second time through the order, but I just didn't make the pitches. They weren't even close."
Bedard yielded a one-out double to Matt Holliday in the sixth but was left in the game to work out of the jam, even after Holliday stole third. The inning soon ended with a David Freese strikeout and a grounder from Shane Robinson.
Porter said he never considered removing Bedard from that final inning, preferring instead to let his pitcher finish what he started.
"You look in that sixth inning he had been pitching at 89-90 [mph] the entire game, that sixth inning, he kind of emptied the tank and reared back and you look, and there's a couple 92, 93s," Porter said. "He really rubbed the ball up and gave it everything he had to get out of that inning and that was good to see."
Four relievers finished off a normally dangerous Cardinals lineup, an effort spearheaded by Jose Cisnero, who has allowed one run over his last 22 2/3 innings for a 0.40 ERA.
The standings would suggest the Cardinals had the advantage throughout this brief Interleague series, and especially in the finale. St. Louis is tied with Pittsburgh for first place in the NL Central. The Cards' starting pitcher had lost only once this season. The Astros, meanwhile, were only one of two teams that had not reached the 30-win mark heading into competition Wednesday.
For one game, however, the teams looked pretty evenly matched.
"Those guys have a tremendous lineup and a deep pitching staff," Castro said. "For us to come out and battle and hang with them -- we had a tough one last night, but to bounce back from that and play some good baseball -- it's reassuring and it's good for the morale around here."
Alyson Footer is a national correspondent for MLB.com. Follow her on Twitter @alysonfooter. This story was not subject to the approval of Major League Baseball or its clubs.