Ottavino thrilled he got to pitch at Fenway Park
Ottavino thrilled he got to pitch at Fenway Park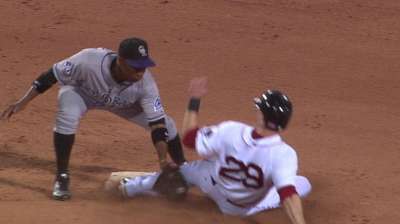 BOSTON -- Rockies reliever Adam Ottavino thought the Red Sox would want him. He was dominating at nearby Northeastern University and Boston brought him to Fenway Park for a pre-Draft workout.
As he lay in the cramped dorms at Speare Hall, he dreamed of pitching off the Fenway mound.
The Red Sox had two first-round picks in 2006. At No. 27, they selected Jason Place, who never made it past Double-A. At No. 28, they selected Daniel Bard, who enjoyed success as a reliever in Boston before a transition to the starting rotation halted his career and sent him back to the Minors.
Ottavino went two picks later, to the St. Louis Cardinals at No. 30.
One of just two Northeastern alums in the Majors (Carlos Pena is the other), Ottavino pitched at Fenway for the first time in a Major League game on Tuesday night, throwing 2 2/3 innings of one-run ball as he helped keep the bullpen from tiring after a brief start by Juan Nicasio.
"The atmosphere is second to none here, so it's really cool," said Ottavino, who was on the streets of Massachusetts Avenue to celebrate after the Red Sox won the 2004 World Series. "It's definitely one of the best places to play. I'm really happy I got that opportunity."
Ottavino had previously pitched against the Red Sox twice. One of the unique opportunities Northeastern presents its players is a chance to play against the Sox each year in Spring Training. Ottavino threw scoreless innings in back-to-back years.
"You have nothing to lose," he said. "If you do bad, you have an excuse. If you do good, you feel good about yourself. The first time, I walked the bases loaded and got out of it. The second time I did pretty good. I got Coco Crisp out, then gave up some hits and got some strikeouts."
Ottavino had a cup of coffee in the Majors while with the Cardinals organization, but he was claimed off waivers by the Rockies last April and has found new success as a reliever.
This season, he's been outstanding. In 41 2/3 innings, he's held opponents to a .227 average while posting a 1.94 ERA with 43 strikeouts.
"As a reliever, I'm able to throw my breaking ball a lot more often than when I was as a starter," he said. "As a starter, you don't want to throw your best stuff early and then not be able to throw it later in the game.
"Last night, I threw 53 pitches, which is about as much as I can get to, so I can just go right to it. I can go right to my bread and butter right away."
Jason Mastrodonato is a reporter for MLB.com. Follow him on Twitter @jmastrodonato. This story was not subject to the approval of Major League Baseball or its clubs.