Lynn's strong outing spoiled by one rough inning
Lynn's strong outing spoiled by one rough inning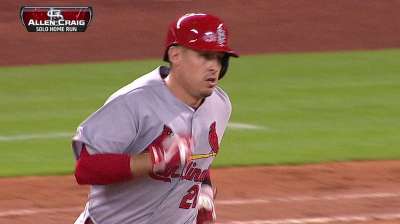 HOUSTON -- After a two-run homer in the first inning of Wednesday night's game, the Cardinals appeared to be picking up right where they left off from Tuesday's power surge.
Unfortunately for St. Louis, that temporary mimicking act also meant allowing another four-run inning. The offense couldn't produce another outburst after some early fireworks, and the Astros used a fourth-inning blitz to down the Cardinals, 4-3, at Minute Maid Park.
With the loss, the Cardinals have dropped four of their last five games, scoring more runs in Tuesday's 13-5 win in Houston than in the four losses combined.
"They did battle and kept fighting us, coming back like that after last night," said manager Mike Matheny of the Astros. "We like to see the fight, but we'd rather see the win."
Much like Jake Westbrook on Tuesday, St. Louis starter Lance Lynn cruised early, throwing three hitless innings before running into trouble. Unlike Westbrook, he didn't have a nine-run lead with which to work.
The Astros pounded out four of their five hits in the fourth, also using two walks and a pair of fielder's choices to touch Lynn for four runs.
"It was just one good inning for them," Lynn said. "The hits are OK, but it was the walks. When you walk guys, you get yourself in trouble. I just didn't throw strikes."
Lynn used a commanding fastball to set the Astros down early, but it was his offspeed and secondary pitches that loosened his grip on the game.
"I was throwing those secondary pitches all for balls [in the fourth], so they weren't doing anything productive," Lynn said. "I wanted to give them a different look the second time through the order, but I just didn't make the pitches. They weren't even close."
The rough inning quickly turned what looked to be another Cardinals rout into a tense affair, one night after St. Louis' own monster fourth inning doomed Houston.
"We've done that to a number of teams in the fourth or fifth inning and made them count and hurt," Matheny said. "It was our turn tonight."
On the game's first pitch, Matt Carpenter bunted for a hit. Yadier Molina -- who got a partial day off by playing first base -- decided he didn't need to see any pitches either, punishing Houston starter Erik Bedard's first offering into the left-field seats.
Molina continued to dispel notions of a slump from a 1-for-12 series against Texas with his second consecutive two-hit night in Houston.
"He's just got a real good approach and doesn't alter from it when things aren't going how he wants," said Carpenter. "He might make adjustments, but he's never wavering from how he swings."
Allen Craig added a solo shot in the fourth, making the quick trip to Houston a rejuvenating one for his power stroke. Craig belted two homers and had four RBIs in the two games. Before Tuesday's contest, he hadn't hit a long ball since June 12 in New York, a span of 12 games.
St. Louis put together a few more threats, first in the sixth. Matt Holliday doubled and moved to to third on a steal, but Shane Robinson grounded out to end the inning.
In the ninth, the Cards had runners on first and second with one out, but pinch-hitter Daniel Descalso struck out and Carpenter flew out to right.
"We had some chances and so did they," Matheny said. "The difference was they they put the one big one together and we couldn't."
Given a 3-0 lead, Lynn dominated the Astros for most of the night. After the Astros hopped on top, Lynn responded admirably, nearly going the distance and allowing only more hit. He lasted 7 2/3 innings, striking out four but also walking four in 106 pitches.
But the fourth inning prevented a chance for the righty to earn his 11th win, and squandering the three-run lead drew Lynn's ire.
"A loss is a loss, doesn't matter," he said. "You get a three-run lead and give it back, that's a bad outing, plain and simple."
The two-game set in Houston likely marked the last time the former National League Central rivals will play in Houston for at least three years.
Matheny lamented losing the venue from the Cardinals' annual schedule, but the game lived up to some of the teams' storied postseason clashes. There were no errors, two home runs, some nifty glovework and a suspenseful ninth inning.
But it was Houston area native Carpenter and the Cards who couldn't say goodbye to the park in style.
"It was bittersweet, losing the game, because I like being here in front of family in a place where these teams have battled hard over the years," Carpenter said. "Maybe we'll see them in the postseason here down the road."
Chris Abshire is an associate reporter for MLB.com. This story was not subject to the approval of Major League Baseball or its clubs.