Twins unable to capitalize on first-inning rally
Twins unable to capitalize on first-inning rally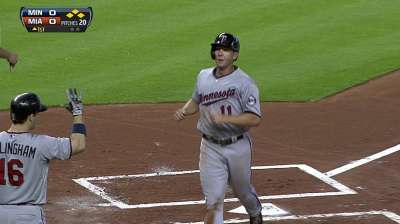 MIAMI -- The Twins gave starter Scott Diamond an early cushion, but he could not protect the lead.
Minnesota stranded nine runners and blew an early lead for the second game in a row in a 5-3 loss to Miami on Wednesday afternoon in front of 15,318 fans at Marlins Park.
The Marlins handed the Twins their fourth loss in the past five games.
For the ninth time in his past 10 outings, Diamond failed to log more than six innings. He gave up four runs on eight hits in five-plus innings, giving up the game's deciding runs on his final pitch -- a two-run homer by Placido Polanco.
"It's just eating me," Diamond said. "I'm [upset] going only five innings every game. It's not helping anybody. It's not helping my team. It's not helping the defense. And I'm getting sick of it.
"With the way it just continues to happen in the fifth and sixth inning, it's an adjustment I need to make. I felt like I did a good job today. It was just a lot of bleeders. That's going to happen, but hopefully you can space them out a little bit, and that just wasn't the case today."
Diamond especially struggled with taking advantage of two-strike counts in the fifth and sixth innings. He reached two-strike counts against six hitters but surrendered four hits, including home runs to Jeff Mathis and Polanco.
"One rough inning where he couldn't stop it, couldn't stop the bleeding," Minnesota manager Ron Gardenhire said. "He's just got to be able to finish off a hitter. That's all. And he wasn't able to do that today."
While Diamond botched the Twins' three-run lead, they did little to help him after the first inning.
Former Twins pitcher Kevin Slowey and Marlins starter Tom Koehler held Minnesota in check. The Twins scored all three of their runs in their first five plate appearances.
Koehler issued full-count walks to Clete Thomas and Brian Dozier to lead off the first, setting up back-to-back RBI singles from Joe Mauer and Josh Willingham.
Oswaldo Arcia capped the three-run first with a run-scoring groundout, putting Minnesota ahead 3-0 before Miami even got a turn at the plate.
The Twins created several more opportunities to build on their lead, but came up empty each time. After plating three in the first, Minnesota put runners on base in the third, fourth, fifth, sixth and seventh innings with nothing to show for it.
After scoring its third run, the Twins were 0-for-5 with two walks with runners in scoring position.
"Nothing happened after that," Gardenhire said. "We couldn't put them away. We had chances."
Diamond cruised through the first four innings with the three-run lead, giving up just two hits in the first four innings.
However, the left-hander began to crack in the fifth.
Diamond gave up five hits to the first six batters he faced, including a two-run homer to Mathis. Diamond threw six straight fastballs, and Mathis sent the sixth one over the wall in left field.
"I stand by that pitch, and it was the right pitch to throw," Diamond said. "If he's anticipating it, it just means that he's still got to hit the ball, and he did. But that's just the way it goes sometimes. I felt like I was attacking the zone pretty well today. It's just frustrating the way it played out."
Following Mathis' two-run shot, consecutive singles from Slowey, Justin Ruggiano and Ed Lucas loaded the bases for Giancarlo Stanton.
Fortunately for the Twins, Stanton grounded softly to first, scoring only one run, albeit the tying run.
After escaping the fifth, Gardenhire decided to let Diamond bat in the top half of the sixth and sent the southpaw back out to the mound.
With Diamond back on the hill, the Marlins picked up where they left off in the fifth.
Logan Morrison led off the frame with a single, and Diamond was replaced by right-hander Ryan Pressly, who promptly surrendered a two-run homer to Polanco, giving Miami the lead for good.
"I actually assumed I was getting Morrison, and that was it," Diamond said. "The pitch count got really high. I threw a lot in the fifth. With playing in the National League, I figured that was the case right there."
Diamond has only recorded one quality start since May 7, and his ERA has jumped from 3.03 to 5.40 during that span. With his struggles ongoing, Diamond said he feels he has been on "the hot seat."
"I've got to be pitching better," Diamond said. "I think that kind of falls back on not going late into games and having that rough fifth and sixth innings.
"I feel like I'm showing more consistency. I'm actually getting pitches better. I have progressed even though my numbers haven't shown it, and I'm just really waiting for it to start cracking, and if I'm still on the hot seat, then that's the way it is."
Joe Morgan is an associate reporter for MLB.com. This story was not subject to the approval of Major League Baseball or its clubs.