Ackley out of lineup while adjusting to outfield
Ackley out of lineup while adjusting to outfield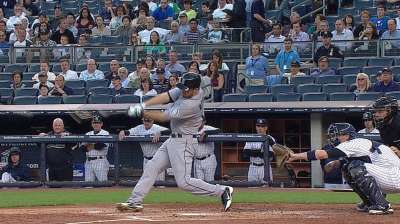 SEATTLE -- Dustin Ackley was not in the Mariners' lineup Wednesday after being recalled from Triple-A Tacoma a day earlier, as manager Eric Wedge said he wanted to give the former second baseman some time to get comfortable in his new outfield position before sticking him in a game.
With Ackley arriving shortly before game time Tuesday, and then the Mariners not holding any pregame workout Wednesday because of the early 12:40 p.m. PT start time, there was not any time to take balls in the outfield before the series finale with the Pirates.
"I thought about it long and hard," Wedge said. "I just didn't want to send him out there his first day [back] in the big leagues, day game after a night game, not really doing anything on the field pregame so he doesn't get a chance to get the [outfield] reps here, which he's never really done here.
"I just felt it would be pushing a bad play, so I've already talked to him about it, and we'll give him a chance to watch our game, maybe help us late and then we'll get him in here after that. I just want him to have a chance to work out here before we send him out there."
Ackley played mostly first base at North Carolina after having Tommy John elbow surgery, but he was drafted as an outfielder. He said he played just five to 10 games in the outfield at North Carolina, but he did play quite a bit there in summer ball and the Arizona Fall League his first year after getting drafted before the Mariners shifted him to second base.
But he said he adjusted quickly to the position after playing nine games in center and three in left field for Tacoma over the past two weeks.
"It's been going great," Ackley said. "I've had almost two weeks in the outfield down there, and it's gone better than expected. I first thought I might be a little lost when I got out there, but kind of right away the first game everything felt pretty good. The biggest transition was just getting my body used to the extra running and the longer throws. But other than that, it's been going great."
It also went well at the plate for Ackley, as he hit .365 with 14 RBIs and 21 runs in 25 games for Tacoma after batting .205 for the Mariners in a rough start to the season.
"It was more the mental side of it," he said. "I think the last two days I was here I started to get on the right track of how I needed to feel and think. When I got down there, all of the sudden things started to take off. I started to feel great; we were winning, I was hitting well.
"When you have all those things, it just compounds and you're feeling great, no pressure to play, and that's what I got away from here. I was thinking about the result and too much about what I was doing at the plate. I just need to see the ball and go out there and play."
Greg Johns is a reporter for MLB.com. Follow him on Twitter @GregJohnsMLB as well as his Mariners Musings blog. This story was not subject to the approval of Major League Baseball or its clubs.