Tigers can't crack Halos in Alvarez's first loss
Tigers can't crack Halos in Alvarez's first loss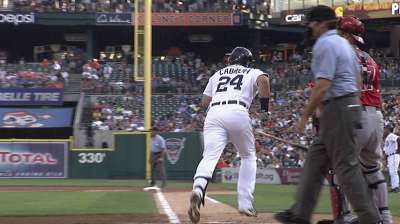 DETROIT -- Not even a last-second bullpen start from the Angels could help the Tigers to a win Wednesday night. That's the way their matchups are going this season.
Instead, on a night when scheduled starter Tommy Hanson was out before he could even throw a pitch, it was the 110th and final pitch from Jose Alvarez in what looked like another quality start that turned this episode of a rivalry that Detroit can't break through.
Add-on runs from the Angels helped pad the margin for a 7-4 Tigers loss, but didn't lessen the impact. This one hurt.
"I don't know how to say it," Torii Hunter said. "I've been around the game for a while and I've seen different teams manhandle one team, and they're manhandling us right now. They're throwing us around like rag dolls."
For the season, the Angels are now 5-0 against them, outscoring them by a 43-16 margin. Detroit will have to find a way to beat Jered Weaver on Thursday afternoon to avoid a season sweep. Add in a three-game sweep last September in Anaheim, and it's an eight-game streak by a 55-21 run differential.
The Angels are 9-7 against the rest of the American League Central, so the impact in the division is lessened. The bewilderment is not, even amongst some players. The Angels are among the season's mysteries, an expected contender that sits eight games under .500 overall and 12-20 against its AL West competitors -- including 3-7 against the Astros -- but seemingly play to their potential here.
"It's another team that's a good team," manager Jim Leyland said, "and they've been swinging the bats very well lately. They're like everybody else. When they pitch good, they win games. No, I don't think it has anything to do with the matchup."
That's the thing: On a night their bullpen had to cover nine innings, the Angels weren't expected to pitch well. When Hunter and Miguel Cabrera hit back-to-back homers off Billy Buckner -- who had a stint with the Toledo Mud Hens in 2010 -- in the first inning for a 2-0 lead, it looked like a blowout in the making.
Buckner had recorded the final two outs the previous night, but the Triple-A starter was the best option the Angels had on short notice. The Tigers didn't know until less than 20 minutes before game time.
With a short bullpen, the Angels had to cover innings. Buckner handled three-plus, with the only other run he allowed a Prince Fielder RBI single in the third. Mike Trout's two-run homer off Alvarez in the top of the inning had tied the game at 2.
"For Billy Buckner to have to get down there and get loose in a hurry and for our bullpen to respond the way they did is huge," Angels manager Mike Scioscia. "That's a big offense over there. Billy did the best he can to kind of get us going, but the bullpen came in and gave us six strong innings. Dane De La Rosa in the middle, that was huge."
Once De La Rosa stranded two of Buckner's runners by leaving the bases loaded in the fourth with a strikeout of Hunter, the Angels had successfully turned potential doom into a pitching duel. In the process, they made every decision a big one.
None arguably loomed larger than the one Leyland faced in the sixth, after Alvarez crossed the 100-pitch mark protecting a 3-2 lead. It wasn't merely a decision about how many pitches Alvarez had left, but also how many pitches Leyland felt he could get out of Drew Smyly.
This is the scenario Leyland meant when he talked in recent days about getting his bullpen in order. With Alvarez, a fill-in starter while Anibal Sanchez is on the disabled list, it's just a far less certain proposition to stretch out for that one critical out to make the logical handoff to the bullpen.
"We were basically hoping to get [Alvarez] through the sixth, pitch Smyly in the seventh, [Al] Alburquerque the eighth and [Joaquin] Benoit the ninth," Leyland said afterward. "And that's what we have to get to if we're going to be good."
That's how a bullpen in order works. The struggle to get there, not just Wednesday but for much of the season, demonstrates Detroit's bullpen woes.
Luke Putkonen was warming in the bullpen as Alvarez began the sixth, but Leyland said he was an option if the Angels put some hits on Alvarez early in the inning. Once Alvarez retired Josh Hamilton and Alberto Callaspo, Putkonen sat down and Smyly got up.
Neither Chris Iannetta's eight-pitch at-bat nor pitching coach Jeff Jones' slow walk to the mound for a visit were going to buy time to get Smyly ready. The visit, Leyland said, was meant to give Alvarez a chance to catch his breath.
"He asked me how I was doing," Alvarez said of Jones, "and I said, 'Good.'"
The switch-hitting Aybar entered the night batting 51 points higher against right-handed pitching than lefties. For his career, his lefty-righty splits are virtually even. For style, Hunter said, he's a different hitter against lefties.
"That's my fault, I didn't tell 'em," Hunter said. "When he's on the right side, he's always trying to go deep. He swings really hard. Left side, he's more of a slap hitter. He got a changeup up, and he was able to capitalize on that hanging changeup."
Said Alvarez: "I think he was sitting on it. The pitch went down, but he hit it."
Three seventh-inning runs off Smyly put the game out of reach. Fielder doubled and scored on a passed ball in the eighth, but that's all the Tigers could add against a procession of Angels relievers.
"We faced six different pitchers today," Hunter said. "Felt like Spring Training. We had different looks every at-bat. But there's no excuses. We got to go out there and do our jobs and battle back. We did. ... We just couldn't come back. The Angels just have our number."
Jason Beck is a reporter for MLB.com. Read Beck's Blog and follow him on Twitter @beckjason. This story was not subject to the approval of Major League Baseball or its clubs.