Reds platooning in left field despite Heisey's return
Reds platooning in left field despite Heisey's return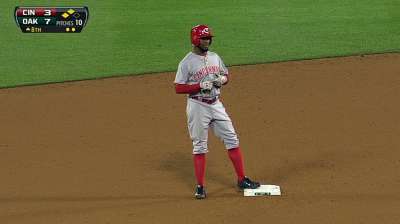 OAKLAND -- Reds outfielder Chris Heisey may be back on the active roster after almost two months on the disabled list. But through two games, Heisey has yet to crack the lineup in left field. He was the designated hitter on Tuesday vs. the A's and did not start on Wednesday.
Derrick Robinson, who had four hits Tuesday, started in left field in the series' conclusion, while Xavier Paul was the DH. With Heisey now in the mix, manager Dusty Baker has not determined a system for giving playing time in left field.
"I'll decide as I go. I'll decide on how guys look," Baker said. "I explained to Heisey that unless you're Joey Votto, Jay Bruce or Brandon [Phillips], it's hard to move right back where you left off -- especially if you weren't doing exceptionally well in the first place."
Heisey, who entered the day batting .179 in 24 games this season, was 1-for-3 with a double and a walk in his return. He had been out since April 29 with a strained right hamstring. Robinson and Paul have been mostly solid in his place.
"I told all of them in Spring Training that if you get hurt, somebody else can step in and take some of your playing time," Baker said. "You've got to earn it back."
Mark Sheldon is a reporter for MLB.com. Read his blog, Mark My Word, and follow him on Twitter @m_sheldon. This story was not subject to the approval of Major League Baseball or its clubs.