A.J. brings 'A' game for first career shutout
A.J. brings 'A' game for first career shutout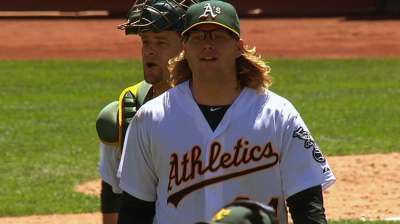 OAKLAND -- A.J. Griffin's command was fashionably late on Wednesday afternoon. Blame it on the matinee start time.
Oakland's right-hander had already thrown 14 pitches, nine for balls that resulted in a pair of walks, by the time he found it. When he did, he embraced it, "and after that he was just absolutely spectacular," his manager said.
Shutout spectacular.
It was the first for Griffin, who allowed the Reds just two hits while fanning seven in a 5-0 victory, and also for catcher Stephen Vogt, making just his third career start behind the plate.
"It's really easy to call a game for a guy that's executing every pitch," Vogt said. "He was absolutely outstanding. No one really squared the ball up. There was maybe one ball hit hard today. That's pretty special, especially against a lineup like the Reds."
Instead of letting a four-pitch walk to Shin-Soo Choo and another with one out to Joey Votto ruffle him, Griffin settled down, didn't allow a hit until the fifth and, according to Vogt, "just didn't miss a spot."
So the A's walked away with a two-game sweep of their Interleague counterparts, in advance of an off-day that precedes a three-game set with the visiting Cardinals.
"I'm sure you guys weren't thinking after the first inning that it was a complete game," Griffin said, smiling. "Neither was I, but I just went out there and tried to execute pitches, and it worked out."
All this despite needing 22 pitches to get through that first frame. By the time the ninth was over, he had tallied 108. Not once did a reliever budge in the bullpen.
"We didn't even want to have to get anyone up in the bullpen, because we were trying to stay away from a few guys," manager Bob Melvin said. "So to throw a complete-game shutout like that is a pretty on-time performance."
The outing resulted in Griffin's first win since May 25, a stretch that sandwiched three losses but didn't necessarily reflect the way he's been pitching, evidenced by an ERA that never strayed north of 4.00. But one big inning always seemed to haunt Griffin, who this time had nine big innings of a different sort.
He peeked over to the bullpen when walking out for the ninth but, even after noticing an empty mound, tried not to let thoughts of a shutout interfere with his rhythm. So instead, he thought of his manager, of the confidence being handed his way at that very moment.
"The biggest thing is, Bob is such a great man and such a great manager that you don't want to let him down," Griffin said. "Everyone on this team wants to make him look as good as possible, and I wanted to go out there and finish the game and make him look like a genius again."
He needed just 11 pitches to make it happen, the last a 90-mph fastball that Jay Bruce swung through for his fourth strikeout. Vogt met Griffin halfway from the mound and offered his new teammate -- and shutout mate -- a hug.
"I've had quite a few big league hugs," Vogt said, "but that was a nice one."
Griffin received more than enough support along the way, with Josh Donaldson being the biggest contributor by way of a first-pitch, three-run homer in a four-run fourth against righty Homer Bailey.
It was the third baseman's second home run in as many days. Tuesday's also came on the first pitch.
"Probably for the past week or so guys have been challenging me a little bit more with fastballs," Donaldson said. "I'm the type of guy who likes to be challenged, especially early in the count, and he made somewhat of a mistake, and I was able to do what I needed to do."
"It's making adjustments," Melvin added. "At some point in time, when they're getting you on strike one and getting you in a hole, you gotta do something about it. And he did."
Kind of like the way Griffin turned things around -- with his mom, Kathy, in attendance for the first time at the Coliseum to watch it all.
"There was a 20-22 mph differential between his fastball and breaking ball and changeup," Reds manager Dusty Baker said. "He had us eating out of his hand today. We were kind of chasing around the strike zone. He was getting strike one, and there were very few times we had him in the stretch."
Said Donaldson: "He made some really good hitters over there step back and rethink their approach a little bit."
Jane Lee is a reporter for MLB.com. This story was not subject to the approval of Major League Baseball or its clubs.