Striking point: Lackey fans 12 to lift Red Sox
Striking point: Lackey fans 12 to lift Red Sox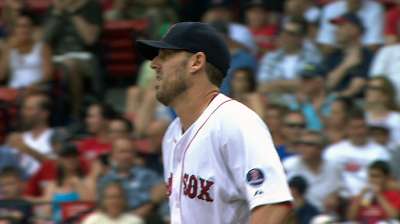 BOSTON -- The level of John Lackey's success should no longer come as a surprise -- he's been doing it just about all season long.
The trend continued Wednesday when the right-hander tied a career high with 12 strikeouts in seven innings and gave up just two runs as the Red Sox beat the Rockies, 5-3, at Fenway Park.
For Lackey, it was his ninth quality start in 13 appearances. With Clay Buchholz on the disabled list and the continued struggles of Jon Lester, Lackey has emerged as a pitcher Boston can count on every five days.
"He was outstanding today," manager John Farrell said. "It seems like either through the injury or through some performances that have been a little inconsistent, we've had guys step up, and John has been one of the mainstays right now over the last month."
On Wednesday, Lackey primarily used a fastball that topped out at 95 mph, about 2-3 mph faster than normal, and attacked the strike zone (73 strikes on 98 pitches) to carve through the Rockies' lineup.
His 12 strikeouts marked the 14th time in his career he's struck out double-digit batters in a game, and was the first time he accomplished the feat since Oct. 3, 2010.
Against Colorado, Lackey recorded his first six outs by strikeout and had three strikeouts in three different innings.
"I had a pretty good fastball especially early on and I mixed in the other stuff as I moved along," said Lackey, who missed all of last season while recovering from Tommy John surgery. "It speaks to where my stuff is at right now, I guess. I was locating pretty well, [Jarrod Saltalamacchia] called a great game, we had a great game plan I thought and was able to execute."
Lackey surrendered a run in the first when Wilin Rosario knocked in Carlos Gonzalez, who reached on a broken-bat single.
Lackey's only other blemish was a towering solo homer in the sixth from Michael Cuddyer, who extended his hitting streak to 23 games. Later in the frame, runners were on the corners with one out, but Lackey retired the final two batters to escape the jam.
"That's the Lackey of old," said Shane Victorino, who went 3-for-4. "I remember playing against him and facing that guy, and he was dominant. That's what he showed today. Twelve strikeouts and going out there and doing what he is doing, going deep into the ballgames. His velocity is back, too. I think that's what makes it important."
Fresh off a season-high 20 hits Tuesday, the Boston bats stayed hot against Colorado starter Roy Oswalt.
Once again it was the top of the lineup getting on base that spurred the production. The Red Sox's first four batters scored all five of their runs and combined for seven of the team's 10 hits.
It all started in the first inning when, for the second straight game, Jacoby Ellsbury led off with a double. Victorino then clubbed his first of three hits to score Ellsbury. A double from David Ortiz scored Victorino, and one batter later, Daniel Nava smashed an RBI single to score Ortiz.
"It's just a very good combination when you see those three guys at the top of the order with their on-base ability followed by with what David can do in the four-hole," Farrell said.
Oswalt then loaded the bases up with no outs in the third. Mike Napoli's single knocked in Victorino and Nava followed it up with a sacrifice fly to score Dustin Pedroia. Oswalt struck out Saltalamacchia and then got Stephen Drew to fly to center to end the inning.
That would be all the run support Lackey needed, though. As he walked toward the dugout following the seventh inning, fans stood and applauded his effort.
It's been a tough road for Lackey since he signed with Boston in 2010. He never really lived up to the expectations and missed the entire 2012 season due to Tommy John surgery.
However, Lackey finally appears to be back for the long hall.
"He's not competing against his body," Farrell said. "The Tommy John surgery, the rehab, the reshaping of the body, it's almost like we're looking at a different guy in a couple ways. His stuff doesn't tail off as it might have early on when he signed here."
Through 13 starts, Lackey is now 5-5 with a 2.99 ERA, his lowest mark through 13 starts since 2007. The rest of the league has taken notice.
"He pitched different than I had ever seen him pitch today," said Cuddyer. "One, he was throwing harder than he ever has. Two, he stuck with fastballs. I saw eight fastballs today and zero offspeed pitches today, which I had never seen before. And that's what he had success with the whole day."
For the first time since replacing Andrew Bailey as the team's closer, Koji Uehara took the mound in a save situation. Hanging onto a 5-3 lead, he retired the bottom of the Colorado lineup in order and recorded two strikeouts.
"Much like we've seen him in other seventh- or eighth-inning roles," Farrell said. "He's going to throw strikes, he's not going to beat himself, and once again, that was the case today."
Michael Periatt is an associate reporter for MLB.com. This story was not subject to the approval of Major League Baseball or its clubs.