Supporters on hand for South Florida native Swarzak
Supporters on hand for South Florida native Swarzak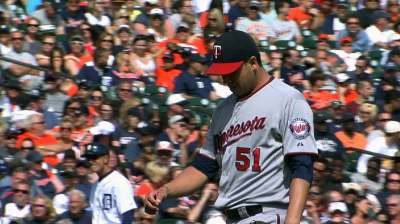 MIAMI -- Fort Lauderdale native Anthony Swarzak was happy to see several familiar faces during his first trip to South Florida as a Major Leaguer.
However, one supporter stood out.
In attendance at Marlins Park this week to see Swarzak is Pat McQuaid, the 27-year-old right-hander's former coach at Fort Lauderdale's Nova High School.
"I can't tell you how much Pat McQuaid has done for me and my career and just me becoming a man in general," Swarzak said. "I'm not the only one. Every kid that comes through that program, he teaches them how to be a man one way or another."
While playing in front of his former high school coach at Marlins Park is special to Swarzak, McQuaid has already seen his former pitcher play in person this season.
McQuaid traveled to Minneapolis when Swarzak's Twins hosted fellow Nova High graduate Michael Morse's Nationals on June 8-9.
"It was cool having me and Michael on the field at the same time and being able to see coach," Swarzak said. "It was fun. I know his wife really enjoyed it, too. It's great for the program, and I think that it's great for South Florida baseball in general."
Almost every Minnesota opponent has gotten a look at the right-hander, who led all MLB relievers with 48 2/3 innings pitched before Wednesday.
He has taken advantage of his high inning count and is on pace to post career-best numbers with a 2.77 ERA and a 1.17 WHIP.
"They've been asking me to pitch in a multiple-inning kind of role, and I've embraced it," Swarzak said. "I just make sure I'm ready to go every night and try to do the best I can regardless, and it's been working out."
Swarzak has been just one of several stellar arms in the Twins' bullpen, which led the American League and ranked second in the Majors with a 2.88 ERA before Wednesday.
"We absolutely take pride in that," Swarzak said. "We want to continue to get better. Nobody's going to sit back and relax and just reap all the benefits. I think that everybody's working to get better every single day. All eight of us."
Joe Morgan is an associate reporter for MLB.com. This story was not subject to the approval of Major League Baseball or its clubs.