Gardenhire being cautious with Doumit
Gardenhire being cautious with Doumit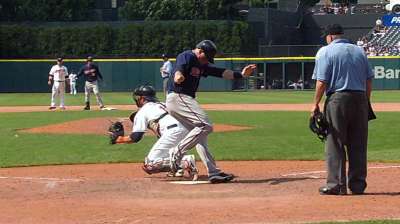 MIAMI -- Twins backup catcher Ryan Doumit says he's good to go despite nursing a sore ankle, but manager Ron Gardenhire wants to take extra precaution.
The 32-year-old backstop twisted his ankle in the ninth inning of Sunday's 5-3 win against the Indians at Progressive Field in Cleveland.
Doumit flew out to left field while pinch-hitting for reliever Caleb Thielbar in the ninth inning of Tuesday's 4-2 loss to the Marlins. However, Gardenhire is wary of letting Doumit play in the field.
"He's OK," Gardenhire said. "I wouldn't want to put him behind the plate, not to start a game. If there's an emergency situation, and he says he can go do it, I've got no problem with that.
"But it's not a perfect scenario right now squatting and bending on that ankle. I think, as you saw him pinch-hit last night and take off running, he wasn't running great. He was limping. He's a tough guy. He's going to tell you he can go, and I respect that."
Resting Doumit required All-Star Joe Mauer to start behind the plate for Minnesota in Wednesday's afternoon game in Miami despite playing in Tuesday night's game.
Gardenhire expressed some concern Tuesday about potentially sticking Mauer behind the plate during Wednesday's day game following a night game.
The Twins have taken steps to help reduce the wear and tear on Mauer while also keeping him in the lineup, playing him at first base and designated hitter in addition to his catching duties. However, Doumit's injury takes away that option.
"He was fine. He'll be fine," Gardenhire said of Mauer. "I don't expect any different from him. He'll always tell you he can catch, whatever you need [him] to do. I just know what you have to do with catchers. You have to protect them.
"Because Joe's such a good hitter and on the bases more than most other catchers, there's a big difference in this guy. It's nice to be able to use him as a DH every once in a while."
Gardenhire said the decision to hold Doumit back has been motivated partly by the brief nature of Minnesota's series against Miami.
"It's only two games here," Gardenhire said. "A night and a day game. We can get through that."
But with no more days off until the All-Star break begins on July 15, Gardenhire hopes to get Doumit behind the plate during the Twins' four-game series against the Royals at Target Field this weekend.
"You can't go with just beating [up] Joe," Gardenhire said. "Doumit's got to be able to do this. He's a tough guy. He's going to say he can do it. I know that. He's told me already, 'I can do whatever you need.'
"But I also know that his ankle's not right. It's not perfect. Trying to bend and squat on a sprained ankle is not an easy thing. I think you can all imagine that. There's concern here, but everybody tells me he's OK."
Joe Morgan is an associate reporter for MLB.com. This story was not subject to the approval of Major League Baseball or its clubs.