So far, Myers foiling opponents' strategy
So far, Myers foiling opponents' strategy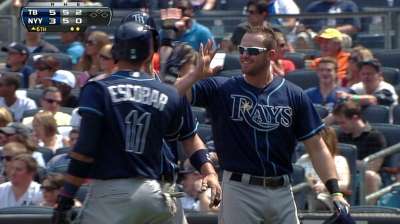 ST. PETERSBURG -- Rays manager Joe Maddon vowed to leave rookie Wil Myers near the middle of the batting order after he was called up last week, in order to not overload him with pressure.
But opposing teams haven't been willing to let Myers hide behind the heart of the Rays' order, choosing to intentionally walk Tampa Bay's power hitters to pitch to the rookie, who hasn't yet amassed 50 at-bats.
So far, the strategy is backfiring. The batter ahead of Myers has been intentionally walked three times and Myers has two hits.
"That's not a bad percentage," Maddon said Tuesday. "Go ahead. I'm all for it. That just makes us better."
C.C. Sabathia intentionally walked James Loney to load the bases last week in New York. Myers answered with his first grand slam.
"The grand slam was pretty cool," Myers said. "To be able to do that for the team felt pretty good."
Mark Buehrle gave Evan Longoria a free pass on Tuesday night to put runners at the corners, electing to pitch to Myers. Myers fouled the off Buehrle's first offering before knocking an RBI single to left field.
"Anytime I can hit with runners in scoring position is a good time to hit," Myers said.
Maddon, however, doesn't see it lasting.
"As he continues to come through, that's going to go away," Maddon said.
Bill Chastain is a reporter for MLB.com. Sam Strong is an associate reporter for MLB.com. This story was not subject to the approval of Major League Baseball or its clubs.