Hernandez solid, but Rays can't solve Dickey
Hernandez solid, but Rays can't solve Dickey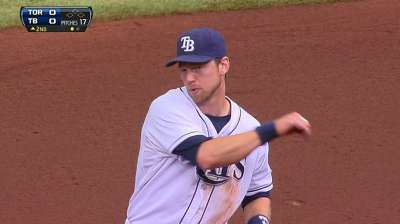 ST. PETERSBURG -- Roberto Hernandez's English is less than immaculate, but he knows the words to express his goal for every outing: "Keep the ball low."
For the most part, Hernandez succeeded in keeping his sinker down in the strike zone on Wednesday afternoon against the Blue Jays, who hit two solo homers and scratched across another run as Hernandez pitched into the ninth inning for the second time this season.
Unfortunately for Hernandez -- who took his third consecutive loss -- one run proved to be too many against Toronto starter R.A. Dickey, whose knuckleball danced and darted across the plate, dodging the bats of Rays hitters throughout the afternoon as the Blue Jays took a 3-0 win at Tropicana Field before a crowd of 21,502.
"I thought Roberto was fantastic," Rays manager Joe Maddon said. "That probably was his best game all year, one walk, seven punchouts. The ball was alive, the sinker was very good, the slider. Everything was good today with him, too. It's just unfortunate we got out-pitched today. But I thought Roberto pitched probably his best start as a Ray."
Dickey was perfect through 4 1/3 innings before James Loney rolled Tampa Bay's first hit through the left side of the infield. But Dickey allowed just one more hit the rest of the way in a complete-game shutout, striking out six.
When asked if the team could have done anything different Wednesday to change their fate, Maddon smiled, then quipped: "If they had been able to take up a tennis racquet, they might have had better results."
Added Desmond Jennings: "There's really nothing you can say or do, I guess. He can do whatever he wants with it, which makes it tough. A video game is probably easier."
Maddon noted that Dickey looked good from the beginning, evoking memories of the gem he pitched against the Rays on June 13, 2012 at Tropicana Field while wearing a Mets uniform.
"He was as sharp as he was last year with the Mets," Maddon said. "The knuckleball today was harder consistently. He was able to elevate with it when he wanted to. Look at his first-pitch strikes. I mean, that's absurd what he did today with his first pitch. When a guy like that is getting ahead with his first pitch, it makes it even more difficult."
Dickey agreed with Maddon's assessment of why he found success on Wednesday.
"You know what made [the knuckler] good?" Dickey said. "It was consistently in the strike zone. It's starting to take shape a little bit.
"I just concentrate on trying to produce a good knuckleball down in the strike zone for a strike. Today, I was able to do that. Mechanically, I was very repeatable, and you saw the results. They were hitting a lot of ground balls. I had a high strike percentage. That's what I'm looking for."
The Blue Jays opened the scoring in the top of the fourth when Jose Bautista fouled off five pitches in an eight-pitch at-bat that culminated with a double to right field. Two outs later, Melky Cabrera singled to right-center field to bring Bautista home for a 1-0 lead.
Adam Lind followed in the sixth with his 11th home run of the season, a full-count shot to left-center field. Lind also went deep off of Hernandez in his previous visit to Tropicana Field in early May.
Edwin Encarnacion capped the scoring with a solo shot off Hernandez leading off the ninth. Hernandez exited having allowed three runs on six hits over eight-plus innings.
"[Hernandez] held us in check, too, until we got that big home run late," Blue Jays manager John Gibbons said. "That was a nice run to add on there from Encarnacion."
Wednesday's outing marked the fourth time in Hernandez's last six starts in which he has made it through at least seven innings. Prior to May 29, he had not thrown more than six innings once this season.
Based on the recent overuse of the bullpen, the run by the Rays' starters in this series -- seven by Jeremy Hellickson on Monday, six by Matt Moore on Tuesday, and Hernandez's eight innings Wednesday -- were much needed, and should give the Rays a boost heading into this weekend's series against Detroit.
"I thought we pitched to them very well for three games," Maddon said. "Obviously, they got three points today. They scored five runs in three games. That's pretty nice.
"We played great defense. Overall we swung the bats really well. That's the kind of game we need to play to be consistent and win and get back to the playoffs. That's the kind of series we need to have."
Bill Chastain is a reporter for MLB.com. This story was not subject to the approval of Major League Baseball or its clubs.