Dickey dominates Rays with two-hit shutout
Dickey dominates Rays with two-hit shutout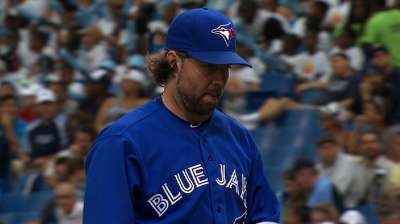 ST. PETERSBURG -- Jose Reyes made his return to the Blue Jays' lineup on Wednesday afternoon, but it was right-hander R.A. Dickey who ended up stealing the show.
Toronto's No. 1 starter was the best he has been all year, tossing his first complete game in a Blue Jays' uniform while recording the sixth shutout of his career.
Dickey's knuckleball had deceptive movement all afternoon, and for one of the first times this year he repeatedly commanded it within the strike zone as he dominated to give the Blue Jays a 3-0 victory over the Rays at Tropicana Field.
"You could tell early on that he had it going," Blue Jays manager John Gibbons said. "That's as good of a game as you can pitch, unless it's perfect.
"He's pitched some good ballgames for us, he's had some tough ones, but for the most part, he gives us a chance to win every night he goes out there."
Dickey has battled inconsistent mechanics for most of the year after suffering an upper back and neck injury early in the season. That eventually caused problems with his release point and resulted in a lot of frustrating moments on the mound.
The most glaring problem the past couple of months has been Dickey's erratic command. Last year with the Mets, Dickey had the ability to elevate and lower his knuckleball at will, while throwing it for strikes.
That hasn't been the case for good chunks of this season. There were starts where the hits allowed were low, but the walks were high. And even in the outings when there weren't a lot of bases-on-balls, opposing hitters got into good counts and were able to be a little more aggressive with the knuckleball.
For at least one outing, Dickey changed all of that as he mixed and matched a slow-velocity knuckleball with a higher velocity one. From the hitters' point of view, there was unpredictable movement. Even the pitches that were being thrown for balls appeared to be strikes out of Dickey's hand.
"I told you it would take some time to un-learn some bad habits that I had picked up trying to compensate for some earlier maladies," said Dickey, who threw 68 of his 93 pitches for strikes. "It's starting to take shape a little bit. Hopefully, this will be a springboard for the next hundred innings."
Dickey was perfect through the first four innings and didn't surrender a hit until James Loney pushed a ground ball through the left side of the infield with one out in the fifth. The grounder normally would have resulted in a routine out, but Reyes was shifted up the middle against the left-handed hitting Loney, who ended up going the opposite way.
The 38-year-old Dickey went on to surrender another hit in the sixth and a walk in the seventh, but allowed just one runner to reach scoring position. The outing was even more impressive considering how much Dickey had struggled in recent starts. He allowed six or more runs in four of his past six games, but faced little resistance against the Rays, who he was facing for the third time this year.
"Obviously everybody knows what's coming and you just never know what it's going to do," Rays outfielder Matt Joyce said. "You're swinging, and you might as well be swinging with your eyes closed because you're swinging and praying that it's going to break into the bat. Obviously it didn't break where we were swinging too much."
Reyes made a pair of strong plays in the field during his first game since sustaining a sprained ankle on April 12, but didn't have much of an impact with his bat. Reyes went 0-for-4 with three grounders and a fly ball to right field, but with Dickey on the mound, the Blue Jays didn't need a whole lot of production.
The Blue Jays struck first in the fourth when Jose Bautista led off with a double and came around to score on a two-out single by Melky Cabrera. Toronto added another run in the sixth when Adam Lind snapped an 0-for-14 skid with a solo home run to center field. Edwin Encarnacion delivered the final blow in the ninth with a solo shot to left.
All three of those runs were charged to Rays right-hander Roberto Hernandez, who allowed six hits while striking out five over eight-plus innings of work. It was an impressive outing as well, and marked the third consecutive game the Blue Jays scored three runs or less. But with Dickey throwing at the top of his game on Wednesday, it didn't matter.
"That knuckleball was moving today. It was unbelievable," Reyes said. "It was kind fun for me to play behind him today, because that ball was moving all over the place. That's good to see and hopefully he can continue to pitch like that because we're going to need it."
With the victory, Toronto avoided being swept in a series that lasted at least three games for the first time since April 25-28 in New York. The Blue Jays have now won 14 of their past 17 games, which included an 11-game winning streak that had been snapped earlier this week by the Rays.
Gregor Chisholm is a reporter for MLB.com. Read his blog, North of the Border, and follow him on Twitter @gregorMLB. This story was not subject to the approval of Major League Baseball or its clubs.