Saunders unable to find rhythm against Pirates
Saunders unable to find rhythm against Pirates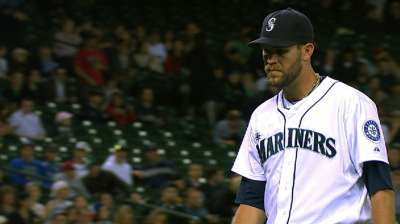 SEATTLE -- There was a time earlier this year when Joe Saunders got tagged with the nickname "Safeco Joe" because of his success at the Mariners' home park, but that day seemed a long way removed Tuesday night when the Pirates jumped on Seattle's lefty early in a 9-4 victory.
Saunders got just five outs before getting the hook from manager Eric Wedge, by which time he'd surrendered a single, double, triple and three home runs to the potent Pirates.
"Bad start," Saunders said. "Falling behind hitters, balls up in the zone, balls down the middle of the plate. I can go on and on. It was just a bad one."
Saunders came in with a 10-2 record and 2.31 ERA in 16 career starts at Safeco Field and he'd been strong everywhere over his past five outings this year with a 1.82 ERA, but the six runs and six hits surrendered in 1 2/3 innings put a damper on all that.
"I felt OK in the bullpen, it was just one of those things where I couldn't find it, tried to find it and it wasn't there," he said. "It's an easy fix. Turn the page. It's almost easier than giving up one run in eight innings. Those ones hurt a little bit more. These ones are few and far between, so you just turn your head and get 'em next time."
The outing was not only his shortest of the season, but his shortest since he lasted just 1 2/3 innings on Aug. 7, 2009, against the Rangers when he was with the Angels. Saunders had made 117 starts since then, so indeed, this was out of the norm.
"I do not remember that one," Saunders said. "I won't remember this one tomorrow either. You've got to forget easily in this game."
The Pirates ripped three homers in the second inning -- a leadoff shot by catcher Russell Martin, a three-run bolt by right fielder Brandon Inge and a follow-up poke over the center-field fence by left fielder Starling Marte on Saunders' very next pitch.
When Andrew McCutchen followed with a two-out double, Wedge summoned long reliever Blake Beavan.
"It was just a bad night for [Saunders]," Wedge said. "They came in here swinging the bats really well, and he just made some mistakes. Some of those don't come back."
Saunders fell to 5-8 with a 4.98 ERA on the season. The 32-year-old is 4-3 with a 3.56 ERA in eight starts at Safeco and 1-5 with a 6.46 ERA in eight road outings.
Beavan, making just his third appearance since being recalled on June 6, slowed the runaway as he allowed one run on four hits over 4 1/3 innings. Beavan has posted a 3.65 ERA in 12 1/3 innings in those three games.
Deposed closer Tom Wilhelmsen pitched a perfect seventh with three straight strikeouts, all coming via his sweeping curve.
Marte took reliever Carter Capps deep in the eighth inning as he capped a 3-for-5 day with two home runs and a triple and Gaby Sanchez added another homer in the ninth as the Pirates finished with a season-high five home runs.
It was just the ninth time in Safeco Field history that a team hit five or more homers in the same game.
"We just missed our spots a little and that was sort of the key to the whole night with everybody," said rookie catcher Mike Zunino. "We just fell behind a little bit too much and then were missing our spots trying to get back into counts."
The Mariners scored one run in the second on an RBI single by Carlos Triunfel, who started at shortstop in place of Brendan Ryan. Kyle Seager added a solo home run in the sixth, cutting the lead to 7-2 with his 10th long ball of the season.
But that was all the damage done against Pirates southpaw Jeff Locke, who improved to 7-1 with a 2.06 ERA as he gave up just four hits in seven innings.
Pittsburgh manager Clint Hurdle said Locke thrived on a night he didn't have his sharpest command.
"He probably had his lightest stuff of the season," Hurdle said. "That made it a good night for him, to be able to get away with light stuff. At the end of the day, his numbers were like always."
Justin Smoak launched a two-run blast in the ninth, his fifth home run of the season, to narrow the final margin to 9-4.
The win was the fifth in a row for the Pirates, who improved to 47-30. Seattle is 34-44 heading into Wednesday afternoon's finale of the two-game Interleague set.
Greg Johns is a reporter for MLB.com. Follow him on Twitter @GregJohnsMLB as well as his Mariners Musings blog. This story was not subject to the approval of Major League Baseball or its clubs.