Dodgers edge Giants for four-game win streak
Dodgers edge Giants for four-game win streak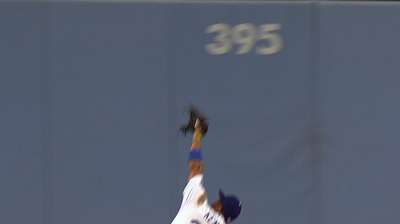 LOS ANGELES -- The Dodgers had played 75 games this year without winning four in a row, and when they finally reached that modest milestone Tuesday night, it's easy to see why it took so long.
They got two-run homers from Mark Ellis and Hanley Ramirez, another quality start from rookie Stephen Fife and a game-saving catch in Matt Kemp's return to the lineup, but they were all out to hang on to a 6-5 win over the Giants.
"It's a year off my life," manager Don Mattingly said after a thrill ride of a ninth inning without closer Kenley Jansen, whose arm needed rest after pitching three consecutive games.
The Dodgers showed they can win even when Yasiel Puig goes 0-for-4. Although management is pursuing Ricky Nolasco and Matt Garza in trades, they were able to win with another quality start from fifth starter Fife.
But it almost got away.
"On nights when we don't have Kenley, somehow, someway we have to patch it together," said Mattingly.
After Fife's 6 2/3 innings, J.P. Howell finished the seventh inning. Ronald Belisario was perfect in the eighth. And with a three-run lead, Mattingly called on former closer Brandon League to pitch the ninth, but all three batters League faced reached base.
So it was up to Paco Rodriguez, who locked down his first Major League save, but only after sending Kemp sprinting to dead center to make a game-ending catch on a Marco Scutaro two-out drive that would have tied it.
"Please catch it," Rodriguez said he said to himself. "I was thinking that step by step, and when he did, it was emotional. Awesome. I still haven't caught my breath."
Kemp, meanwhile, talked his way off the disabled list to play in his first game since being sidelined with a right hamstring strain May 29. He went 1-for-4 and scored from second base on a single in a decisive four-run sixth inning.
"My legs are feeling good. I can't play timid," he said. "I have to let it go. If it goes, it goes. Hamstrings are tricky. You never know when they're good. But right now it feels good.
"I had to beg [Mattingly] to play today. I'm sick of watching my team play without me. It kind of feels like you're not part of the team when you're on the DL and not playing. I just wanted to get back out there with the guys and play. But I definitely had to beg him."
Kemp usually plays a deep center field, but he was unusually shallow for Scutaro, leaving enough ground to cover to really test his leg.
"I was just anticipating him trying to hit a ground ball up the middle, and he hit that ball pretty good so I had to drop my head and run back and make the catch," said Kemp. "Scutaro doesn't really drive the ball to center field like that. It surprised me a little bit. I had to go back and make the catch."
The Dodgers offense again was lifted by Ramirez, who had two hits, including the fourth home run during an eight-game hitting streak, a laser that caromed off the left-field foul pole. He's hitting .467 with 10 RBIs during the streak. The last time Ramirez has felt this good?
"Maybe 2009, when I was the batting champion," he said. "It's all about health and the [surgically repaired] shoulder. We've been putting in a lot of work."
Ellis gave Fife an early lead with his two-out homer in the third inning after Tim Federowicz's leadoff double. Ellis also had a single and Federowicz had the single that scored Kemp. Andre Ethier had two hits and is hitting .382 over the last 10 games. Adrian Gonzalez doubled and scored a run.
Add all those names up and the Dodgers, healthier than they've been all season, have "no excuses," according to Mattingly.
Fife was clearly unhappy with his fastball command, which he called "awful," but he brushed off the rumor that the Dodgers are again on the prowl for veteran starters.
"It's baseball," he said of the rumors. "Everybody wants starting pitching if someone crazy becomes available. I'm here to pitch as well as I can to help the team win a World Series. If it lasts a week or two weeks or the rest of the year, I'm just going to do my job every fifth day."
League, however, is a real concern. Signed to a three-year, $22.5 million deal during the winter, his ERA is up to 5.72 and Mattingly indicated he won't be used in pressure situations until he regains his confidence.
"You hate seeing anybody go through that," said Mattingly. "We're going to need this guy to bounce back and pitch well. Now how do we get to there? I'm not quite sure about that, honestly.
"There's going to be days when we need to get big outs and he's going to need to help us. But it is tough to watch. When it's happening, a guy's confidence just goes down and you can't do anything about it other than feel bad for him. But at that point, he's going to have to go to work and hopefully we can build some positive outings. That's really the best way for me to try to do it, where he can have some positive outings and gain some confidence."
As for Puig, Giants starter Mike Kickham outlined the attack plan.
"Hard in, open up the outer part of the plate, get ahead and try to get him to chase," he said.
Ken Gurnick is a reporter for MLB.com. This story was not subject to the approval of Major League Baseball or its clubs.