Missed chances sinks Giants below .500 mark
Missed chances sinks Giants below .500 mark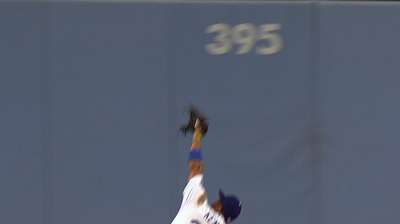 LOS ANGELES -- This was the kind of effort that sub-.500 teams deliver. Gallant, yet flawed. So it was entirely fitting that the Giants slipped to 38-39 Tuesday night as the Los Angeles Dodgers handed them a 6-5 setback.
The Giants nearly savored a dramatically different outcome. Trailing, 6-3, they narrowed the difference to a single run with a furious rally against Dodgers reliever Brandon League. But with runners on first and second base and Paco Rodriguez pitching, Dodgers center fielder Matt Kemp, playing his first game since May 29 after overcoming an injured right hamstring, robbed Marco Scutaro of an extra-base hit with a running catch at the warning track.
Kemp punched the wall in joyous emphasis. For the Giants, it was a punch in the gut that accompanied their fifth loss in six games and fourth in a row on the road.
"Marco smoked it. I thought it was over [Kemp's] head," Giants manager Bruce Bochy said. "We [would have] had the lead at that point."
"I knew I hit it good," Scutaro said before stalking away in an increasingly silent Giants clubhouse.
Said Kemp, "Scutaro doesn't really drive the ball to center field like that. It surprised me a little bit."
Giants shortstop Brandon Crawford felt surprised to hear that the reigning World Series champions had become a losing team this late in the season since they finished 2008 at 72-90.
"Honestly, I didn't even know we were under .500," Crawford said. "I just knew we haven't been playing well. We don't have to be under .500 to realize we're not playing well."
The Giants also lamented shortcomings that, had they avoided them, would have slimmed their ninth-inning deficit.
They could not drive in Brandon Belt from third base, where he arrived with one out in the fifth inning and the score tied, 2-2. Dodgers starter Stephen Fife (2-2) induced Crawford's infield popup and struck out Mike Kickham.
"We have to hit better with runners in scoring person, personally," Crawford said.
San Francisco yielded an unearned run in the sixth inning, when Los Angeles scored four runs to snap a 2-2 tie. Rookie right-hander Jake Dunning attempted a pickoff throw with two outs and the pitcher, Fife, at bat. Dunning flung the ball wildly past first base, scoring Andre Ethier with what proved to be the decisive run in the Dodgers' season-high fourth consecutive win.
"Little things add up," Bochy said.
That held true in the ninth inning. Hunter Pence singled and scored on a double by Belt, who homered in the seventh inning and went 3-for-4. He nearly doubled his lifetime output of hits at Dodger Stadium, where he was 4-for-43 entering the game. Belt scored on Andres Torres' single, finishing League. Crawford, a left-handed batter, grounded a single off left-hander Rodriguez as Torres moved to second base. But rookie Juan Perez fouled off a sacrifice-bunt attempt, then pulled his bat back to take strike two. Perez ultimately flied out to Kemp, unable to advance the runners.
Gregor Blanco struck out before Scutaro launched his fruitless drive toward Kemp, whose catch reminded the Giants of Will Venable's 12th-inning grab June 17 that denied them a victory over San Diego.
"If one thing is working, then another thing's not working," Crawford said, evaluating the Giants' overall performance. "But it doesn't help that we're not catching any breaks, that's for sure. I mean, if we catch a break tonight, we go ahead by a run, at least, shut the door, we have a win. If Venable doesn't make that catch the other day, that's a walk-off. We end up losing that game, too. We need to step up. All pieces need to be working at the same time."
Kickham improved upon his big league debut at Oakland on May 28, when he yielded four runs in 2 1/3 innings. This time, he lasted 5 1/3 innings and was charged with all of the Dodgers' runs, though one was unearned. He yielded a pair of two-run homers, including Hanley Ramirez's sixth-inning drive down the left-field line that appeared destined to hook foul. The ball suddenly nicked the foul pole, surprising numerous Dodger Stadium onlookers and resulting in Ramirez's fifth home run.
But Kickham solved the mystery of Yasiel Puig. The heralded Dodgers rookie, who hit safely in 17 of his first 20 games, went 0-for-3 off Kickham and finished 0-for-4. Puig's batting average plummeted to .420.
Kickham described his approach against Puig thusly: "Hard in, open up the outer part of the plate, get ahead and try to get him to chase."
Asked if he was helped by watching Puig hit during Monday's series opener or scrutinizing videos, Kickham said neither.
"Buster knew what he was doing back there," Kickham said, referring to catcher Buster Posey, who also opened the Giants' scoring with a fourth-inning homer. "He called a good game."
Chris Haft is a reporter for MLB.com. This story was not subject to the approval of Major League Baseball or its clubs.