Rockies, Nicasio encounter misfortune at Fenway
Rockies, Nicasio encounter misfortune at Fenway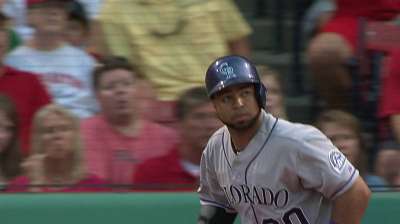 BOSTON -- Fenway Park didn't treat the Rockies so kindly Tuesday night in Colorado's first visit to Boston in six years, with the Red Sox running away with an 11-4 win.
On the mound, outs were elusive for Juan Nicasio. He allowed a career-high 12 hits while seven runs scored, six earned, as he was pulled after getting one out in the third inning.
The Rockies surrendered 20 hits, the most hits by a Red Sox team in a nine-inning game since 2011.
"If you end up in fastball counts and having to throw your fastball, it's a tough lineup to get through," said Colorado manager Walt Weiss.
While Nicasio struggled, the only favor the 101-year-old ballpark did was provide high enough walls in deep center field to keep a trivial Stephen Drew triple from leaving the yard in the fourth inning. Drew scored later that inning anyway.
Red Sox hits bounced off the towering Green Monster in left field for doubles, while the same wall later robbed Nolan Arenado of a home run and instead left him on first base with a single. Arenado, who had to turn around halfway to second base when he realized his misfortune, could only shake his head when he got back to first.
"I think a lot of people talk about the home runs you get here because of the wall, but I've seen that wall take away a lot of home runs too," Weiss said. "But that's the nature of this park."
The first inning was just one of those where nothing went the pitcher's way.
Jacoby Ellsbury's double was really just a ground ball that hugged the right side of the foul line. Dustin Pedroia barely got his bat on an outside pitch that blooped into right field for a single to score Ellsbury. Nicasio couldn't buy a strike against David Ortiz, walked him on four pitches, and then walked Mike Napoli when his four-seamer refused to catch the corner of the plate.
Nicasio escaped with the bases loaded and only two runs scored. But the damage was done. Nicasio wasn't the same after that.
"Anytime you get 20 hits it's a very good night," Red Sox manager John Farrell said. "But I think early on we found some holes with some base hits that weren't squared up and then combined it with some balls that were squared up."
In the second inning, the Red Sox hit three straight doubles followed by a pair of singles, all coming with two outs. Three runs scored.
In the third, Nicasio got the first out before four straight singles caused Weiss to leave his seat in the dugout and give his starter the hook. Weiss said Nicasio would have his status with the club evaluated soon.
"They have good hitters," said Nicasio, who saw his season ERA rise to 5.31 and hasn't won since May 19. "I threw a fastball and they hit a blooper or a foul ball. I'd make a good pitch down in the zone, but they can hit it."
Adam Ottavino, who attended college at nearby Northeastern University, pitched 2 2/3 innings of one-run ball to save the bullpen from complete over-usage.
"Otto was big, giving us some length tonight and not having to burn through that 'pen," Weiss said. "He got extended a little bit more than I would have liked, but he was effective enough to go out there and finish that last inning so that helped."
And the Rockies put together a very respectable night at the plate, collecting 11 hits as they were led by 3-for-4 nights by both Arenado and Wilin Rosario, who hit his 12th homer of the year. Michael Cuddyer extended his Major League-best hitting streak to 22 games. Corey Dickerson hit his third double in two Major League games.
But it wasn't to be in this one. Some bad luck combined with a forgettable performance by Nicasio had sunk the Rockies too deep.
And the Rockies will have to do just that -- forget. They play one more at Fenway on Wednesday as they attempt to climb back above .500 on the season.
"A game like that, this game is in the past now," Nicasio said. "I'm working hard to try to do better."
Jason Mastrodonato is a reporter for MLB.com. Follow him on Twitter @jmastrodonato. This story was not subject to the approval of Major League Baseball or its clubs.