Jackson's struggles continue in another short start
Jackson's struggles continue in another short start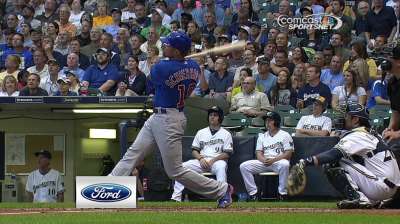 MILWAUKEE -- Edwin Jackson may need a breather more than anyone else on the Cubs.
Rickie Weeks belted a two-run homer, a solo shot and an RBI double, and Juan Francisco added a solo homer to power the Brewers to a 9-3 victory against Jackson and the Cubs on Tuesday night.
Jackson allowed six runs over 4 2/3 innings, his third outing in the last 10 in which he failed to finish the fifth.
"We've got to get more consistency," Cubs manager Dale Sveum said. "We have to try to get that guy who we saw in the first three innings against the White Sox and a couple more outings. It's the consistency with the velocity and the power.
"I think he knows the formula. His good games have been the conviction and the velocity and try to overpower people, and not finesse anything up there."
Those three innings against the White Sox came May 28, but were wiped out by rain and don't count. Jackson also pitched well against the Pirates on June 9, giving up one run over seven innings, and followed that with a win against the Mets, whom he limited to one run over six innings. But Jackson hasn't been consistent.
Francisco got things started with his home run with one out in the second off a 3-1 pitch. But Jackson singled to open the third, and one out later, Darwin Barney singled to set up Nate Schierholtz's 11th home run, giving the Cubs a 3-1 lead.
"He keeps continuing to be our most consistent hitter on a daily basis," Sveum said of Schierholtz.
"I just got caught doing something I've been doing to that guy several times," Milwaukee's Kyle Lohse said of the at-bat with Schierholtz. "I think maybe he was looking for it. He did his homework. Sometimes guys make adjustments, and sometimes it comes in a bad spot. After that, I just had to make pitches and try to keep them there."
Francisco walked to lead off the fifth and scored on Weeks' double. One out later, Weeks scored on Caleb Gindl's single, his first Major League RBI, to tie the game at 3. Gindl moved up on Lohse's sacrifice, Norichika Aoki walked and Jean Segura hit a go-ahead double. It was Segura's 100th hit of the season, the most in the National League.
"I put myself in a position to get out of that inning with one run and still a 3-2 game, and I wasn't able to put those guys away," Jackson said. "The balls were up, or too much over the plate with two strikes."
Jackson now has reached double-digit losses for the second straight year and third time in the past four years.
"There's a long way to go," he said of the season. "There's nobody in this clubhouse who has lost confidence. It's a tough game we play. You've got a choice: You can either give up and get buried, or keep fighting. We still have a lot of baseball left. It's how you finish. You can start off not how you want to and finish the season up spectacular. You just keep going. Nobody's feeling sorry for themselves. We don't have time for that."
But there have been too many games when Jackson has had one inning be his downfall.
"We just can't control some innings when they start going a little bad, whether it's fastball command," Sveum said. "Tonight, from the get-go, he didn't have much of a fastball. He averaged 92 mph. It's going to be tough for him to pitch with that velocity. It seems like innings get out of control and they turn into big, crooked numbers."
Jonathan Lucroy hit a two-run single to open a 6-3 lead and chase Jackson, capping Milwaukee's five-run fifth. Weeks belted his two-run homer off Hector Rondon in the sixth and added a solo shot off Shawn Camp in the eighth.
The Cubs were without .228-hitting Starlin Castro, whom Sveum sat for a one-day break. Could Jackson use a similiar breather?
"That's in a perfect world," Sveum said. "You've got to get out there and pitch and have the same mentality all the time."
"I don't feel like I didn't have a feel for my pitches," Jackson said. "A couple at-bats got away from me. I felt like, for the most part, I could throw strikes when I wanted to. I just had counts where they were too good of a strike."
Schierholtz, now 10-for-31 in the No. 3 spot in the lineup, is one of several Cubs being watched closely by teams looking for that missing piece prior to the July 31 Non-Waiver Trade Deadline. There were plenty of scouts at Miller Park.
"The phone calls ramp up this time of year," Cubs general manager Jed Hoyer said.
Hoyer and Theo Epstein, Cubs president of baseball operations, have talked to every general manager over the last four to five days.
"In some ways, it's an invigorating time of year, because there is a lot of action going on and a lot of things going on," Hoyer said.
It also can be frustrating. The Cubs went 1-for-10 with runners in scoring position, and didn't help themselves on the bases. Welington Castillo doubled with one out in the fourth and made a baserunning gaffe as he was easily tagged out trying to get to third on Cody Ransom's grounder to short.
It's also been rough for Sveum, who played for the Brewers. Instead of a nice homecoming, Chicago is now 1-5 against Milwaukee this year and 2-19 against the Brewers in their last 21 games at Miller Park.
With the loss, the Cubs dropped into last in the NL Central. Milwaukee manager Ron Roenicke said they're not thinking about the standings.
"We're not battling for last place, we're battling to try and get back in this thing," Roenicke said. "Hopefully, get closer to .500, and then we'll see."
The Cubs and Jackson are thinking the same thing.
Carrie Muskat is a reporter for MLB.com. She writes a blog, Muskat Ramblings, and you can follow her on Twitter @CarrieMuskat. This story was not subject to the approval of Major League Baseball or its clubs.