Marquis roughed up, Padres fall to Phillies
Marquis roughed up, Padres fall to Phillies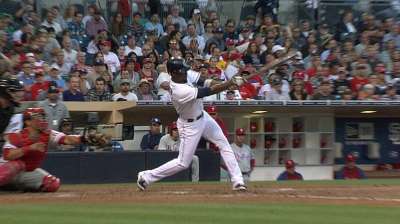 SAN DIEGO -- There have been plenty of good days so far this season for Padres righty Jason Marquis, especially on those occasions when he's getting opposing hitters to chase his sinker and swing though his changeup.
In fact, it's happened a lot in 2013, so much so that before Tuesday, the last time Marquis had lost a game was April 22, before the Padres morphed into a more successful unit that has ditched a slow start for a push near the top of the National League West.
"He's pitched so well for us," Padres manager Bud Black said of Marquis.
They can't all be gems though, as Marquis was again denied his 10th victory of the season. The Phillies got to him early in a 6-2 victory before a crowd of 24,695 at Petco Park.
"Just one of those days. I could never get a feel for anything and paid the price," Marquis said. "I tried to battle through and find a way. Sometimes you're able to do that and sometimes you're not able to do that. Tonight was one of those nights that I wasn't able to."
Times when Marquis (9-3) hasn't had his best stuff this year are rare.
He was 8-0 with three no-decisions since that April loss to the Brewers. That loss came at a dark time for the Padres, who were scuffling along at 5-14, not getting much in the way of innings or success from their starting rotation.
It wasn't long thereafter that the Padres began playing better, success that was built on, oddly enough, a starting rotation that looked nothing like the one that started the season. There were longer and better starts, a blissful run that Marquis was smack dab in the middle of.
"You can't argue with the success, the wins, the ERA," Black said of Marquis.
On Tuesday, Marquis allowed 11 of the 23 hitters he faced to reach base and was gone one out into the fifth inning -- his shortest start since going 3 1/3 innings in a no-decision against the D-backs on May 26. This was his second failed attempt at winning his 10th game.
The Phillies (37-41) had several loud outs in the first inning, including a long fly ball to center field that Alexi Amarista hauled in on the warning track. Two innings later, the Phillies got to Marquis, as he walked leadoff hitter Jimmy Rollins and then Michael Young singled.
Marquis actually looked like he might wiggle out of trouble when he struck out Ryan Howard on a changeup in the dirt. He then missed with two changeups to the next batter, Domonic Brown, who then sent a sinker deep into the Jack Deck in right-center field for his 20th home run of the season.
"Jason was just a little bit off the mark tonight," Black said. "His secondary pitches, it seemed, he was getting underneath them. The Philly hitters showed a lot of patience and laid off of some borderline pitches."
The Phillies chased Marquis in the fifth inning, when he allowed two hits and two walks, the last one coming against Brown with the bases loaded to force in a run. Brad Brach replaced Marquis and uncorked a wild pitch, allowing another run to score to make it 5-2.
"He just wasn't hitting his spots today," Padres catcher Yasmani Grandal said about Marquis. "A very disciplined team, they take a lot of pitches, so he made a mistake and that's going to happen. He's had four or five great starts, it wasn't his best one today, but he battled and kept us in the game to a point."
The Padres (39-39) looked to be in good shape early against Phillies starting pitcher Kyle Kendrick (7-4), scoring twice in the second inning.
Kyle Blanks opened the inning with a single and advanced to third when Grandal dropped a double in front of Brown in shallow left field, as the ball briefly scooted away from him. Amarista followed with an RBI groundout, and Pedro Ciriaco, filling in at shortstop for Everth Cabrera, lined a single to left field to make it 2-0.
"It's always nice to pitch eight innings, especially with some key guys hurting down [in the bullpen]," Kendrick said. "I had a couple of long innings, but I was able to battle through those. It was a good win for us, for sure."
Kendrick settled down after the second and allowed only three more hits over the next six innings. All told, Kendrick got 13 ground-ball outs, yielded seven hits with no walks and six strikeouts.
"He kept the fastball down in the zone and it had good sink to it," Black said. "He got a lot of grounders. We couldn't seem to bunch anything together. He pitched a good game."
The Padres made some noise against Phillies reliever Antonio Bastardo in the ninth inning, as Grandal got on base with a single and Ciriaco added a double to put runners on second and third base. But the threat ended when Bastardo struck Chris Denorfia out looking on a breaking ball. He then struck out Logan Forsythe to end the game.
Corey Brock is a reporter for MLB.com. Keep track of @FollowThePadres on Twitter. This story was not subject to the approval of Major League Baseball or its clubs.