Dodgers to be flexible with outfield mix
Dodgers to be flexible with outfield mix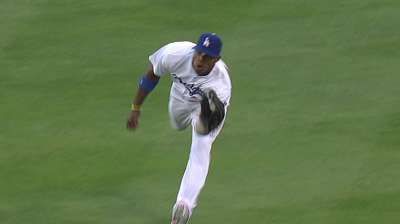 LOS ANGELES -- The Dodgers outfield is getting crowded.
With center fielder Matt Kemp activated from the disabled list Tuesday and injured outfielders Scott Van Slyke and Carl Crawford close to returning to the Dodgers, manager Don Mattingly will soon mix and match at all three outfield spots.
"I want us to be flexible because of lineups," Mattingly said. "I want us to be able to go right and left, so I can to go all right-handed [hitters] or have two out of three left-handed."
The initial signs of change came Tuesday, when Yasiel Puig started in left for the first time since being recalled June 3. Puig had primarily played right when Kemp was sidelined, with Andre Ethier sliding over from right to fill in for Kemp in center. Ethier was back in right Tuesday, though Mattingly said Ethier would still spell Kemp in center at times.
"Yasiel is still going to play right," Mattingly said. "I need to be able to move him from right to left. He just wants to play. I think he can do anything."
Van Slyke could return from a left shoulder issue this week. He primarily played left before he was injured, but can also play right as well as first base and gives the Dodgers a right-handed bat with power.
Mattingly said he anticipated getting Crawford back at some point during a nine-game road trip that begins next Tuesday in Colorado. The manager said Crawford would only play left when he returns from a strained left hamstring.
The Dodgers are also considering playing Kemp at the corners to ease the burden on his troublesome hamstrings. But Kemp hasn't played right since 2009 and hasn't been in left since 2006, his first Major League season.
Ken Gurnick is a reporter for MLB.com. Austin Laymance is an associate reporter for MLB.com. This story was not subject to the approval of Major League Baseball or its clubs.