Moore strikes out 11 as Rays again top Blue Jays
Moore strikes out 11 as Rays again top Blue Jays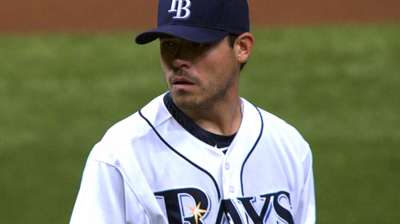 ST. PETERBURG -- The west Florida skies were clear when Rays starter Matt Moore took the mound against the Blue Jays on Monday.
Inside Tropicana Field, Moore's first four innings were anything but smooth sailing as he issued five walks and his pitch count crept into the 80s.
But as clouds swirled outside the dome, thunder was audible inside. The lights flickered, and somehow, Moore settled down, eventually matching a career-high 11 strikeouts on the way to the Rays' third consecutive win, a 5-1 decision.
"It was bend but don't break," Rays manager Joe Maddon said. "He was obviously off in the beginning and missing by a lot. All of a sudden, he found it. … That's the beautiful thing about him. He has the stuff to pitch through those wild moments."
Moore allowed four hits and one earned run in six innings, but his 10th win of the season didn't come without him laboring through the early part of the game. He issued six walks and totaled a career-high 120 pitches.
Moore threw 69 pitches through the first three innings and 51 in the final three.
"He hit his stride in the fourth, fifth and sixth, and that's why we stayed with him as long as we did," Maddon said.
Maddon prefers to manage his bullpen over three innings rather than four, but after Moore walked Maicer Izturis with two outs in the sixth, it appeared a call to the right-field bullpen was coming. Instead, Moore induced a Melky Cabrera groundout.
"I wasn't gassed," Moore said. "For me, usually after 80 or 90 pitches is as good as I'm going to be. I was very happy to stay in the game right there."
Moore agreed with a reporter who called his 16th start of the season "bipolar," a word that could also be applied to his entire body of work this year. He won eight of his first nine starts before recording two no-decisions and three losses as May turned to June.
Coupled with last week's win over the Yankees, Moore has been victorious in his last two outings.
"He'll figure it out," said Maddon, adding that he expects Moore's walks to decrease as time goes on. "He'll get to that point where he knows exactly what he's doing out front, and when he does, it's going to be really fun to watch."
Two of Moore's walks came in the top of the second inning, which allowed Izturis' two-out single to score Rajai Davis.
"We got some guys on base, we worked some walks, just couldn't get that big hit," Toronto manager John Gibbons said.
The Rays countered with a run of their own in the bottom of the second on hits from James Loney and Desmond Jennings.
Tampa Bay would add three more in the fourth on two sacrifice flies plus an RBI single from Wil Myers after Evan Longoria was intentionally walked. Myers is 2-for-3 with five RBIs following a Longoria free pass.
Kelly Johnson's dribbling ground ball in the seventh scored Yunel Escobar after Escobar and Loney led off the inning with a pair of singles.
Sam Strong is an associate reporter for MLB.com. This story was not subject to the approval of Major League Baseball or its clubs.