Brown blasts 20th homer to back Kendrick in win
Brown blasts 20th homer to back Kendrick in win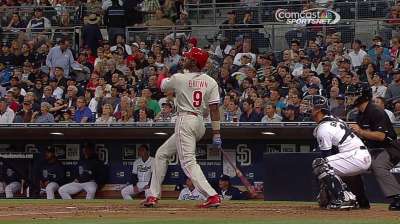 SAN DIEGO -- This time the lead held.
One day after Cliff Lee and the Phillies' bullpen blew a three-run lead in the ninth inning against the Padres in what might have been their worst loss of the season, the Phillies bounced back on Tuesday with a relatively easy 6-2 victory at Petco Park.
"A four-run lead is not automatic," Phillies manager Charlie Manuel carefully reminded reporters afterward. "You can lose four-run leads real quick."
But Domonic Brown hit his 20th home run of the season and tied a career-high with four RBIs, while Kyle Kendrick allowed two runs in eight innings to improve to 7-4 with a 3.46 ERA. He struck out six and didn't walk a batter.
"Obviously it was a tough loss [Monday], but it's over with and there is nothing we can do now," Kendrick said. "We came in today and the guys jumped on [Padres starter Jason Marquis] early and got some runs. That was nice."
The Phillies can further ease the sting of Monday's loss, and finish the first leg of their 10-game road trip on the right foot, with a victory in Wednesday's series finale. Cole Hamels, a San Diego native, will be on the mound, and he is 4-1 with a 1.27 ERA in six starts at Petco.
Brown and Kendrick led the way on Tuesday. Brown blasted a 2-0 fastball from Marquis to right-center field for a three-run homer with two outs in the third inning to give the Phillies a 3-2 lead.
"That ball was well struck," Kendrick said.
Brown last homered June 8, and in the 14 games between then and Tuesday, he had hit .192 (10-for-52) with three doubles, three RBIs, five walks, 15 strikeouts and a .509 on-base-plus-slugging percentage. That followed a remarkable 15-game stretch in which he hit .404 (23-for-57) with three doubles, one triple, 11 homers, 22 RBIs, four walks, 12 strikeouts and a 1.070 OPS.
Brown became the first Phillies player to have 20 or more homers before July since Raul Ibanez (22) and Ryan Howard (20) in 2009.
"He's going to hit a few more," Manuel said.
"I was actually looking changeup," Brown said of the homer. "That was the only fastball I saw from him in three at-bats. I was looking middle, the other way and reacted to the ball in. That's what I have to do, keep staying short and quick to the baseball. I told Charlie I made that adjustment. [My swing] had been long. He had a couple words with me [before batting practice]. Everything is fine."
The Phillies loaded the bases with one out in the fifth, as Marquis allowed singles to Jimmy Rollins and Chase Utley and walked Howard. Marquis then walked Brown on four pitches to score Rollins and make it 4-2.
Marquis allowed six runs in 4 1/3 innings. He has a 5.71 ERA in 28 career appearances against the Phillies.
A wild pitch from Brad Brach scored Utley to make it 5-2, and John Mayberry Jr.'s sacrifice fly scored Howard for the Phillies' sixth run.
Kendrick allowed two runs in the second inning but then retired 14 of 16 batters until he gave up consecutive singles with one out in the seventh. But Kendrick struck out Logan Forsythe and got Mark Kotsay to fly out to center field to end the threat.
Kendrick has allowed two or fewer earned runs in 11 of 16 starts this season. It is tough to imagine where the Phillies would be without him.
And where would they have been without a victory on Tuesday? The Phillies' clubhouse felt like a morgue following Monday's loss. There seemed to be a little more life on Tuesday, although this team knows it has to play much better for much longer to get into the playoff race. This victory was needed, no question about it.
"It definitely was," Brown said. "That's the great thing about having a lot of veteran leadership in the clubhouse. They keep us nice and upbeat. I know I'm one of the guys that wants to start thinking, but I watch Jimmy and Howard and Utley and those guys, and just go out and worry about the next game. That's really all you can do."
Todd Zolecki is a reporter for MLB.com. This story was not subject to the approval of Major League Baseball or its clubs.