Bats, Buehrle struggle as Blue Jays fall to Rays
Bats, Buehrle struggle as Blue Jays fall to Rays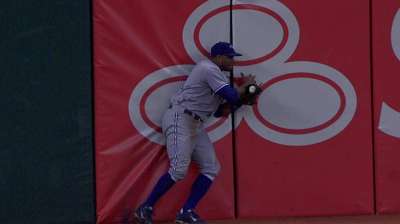 ST. PETERSBURG -- The Blue Jays traveled to Florida riding one of their best hot streaks in franchise history, but even that hasn't been enough to reverse their fortunes at Tropicana Field.
Toronto entered play on Monday having tied a franchise record with 11 consecutive wins, but all of a sudden has dropped its past two. The run of good luck was bound to end some time, but it should come as no surprise the abrupt halt happened against the Rays.
The Blue Jays' woes against their division rivals continued after the offense was held in check for a second consecutive night en route to a 5-1 loss to the Rays on Tuesday at Tropicana Field.
"Tonight and last night their pitchers basically shut us down," Blue Jays manager John Gibbons said. "We had a couple of shots -- we had a shot in the third inning tonight, and of course last night it was the eighth with the bases loaded.
"I tip my hat to those guys over there. That's what they do, they pitch. That's basically what it came down to."
Toronto hasn't won a series at Tropicana Field since April 2007, and that streak is guaranteed to continue after dropping the first two of this three-game set. Since that 2007 win, the club has lost 43 of its past 57 games in St. Petersburg, a span of 18 series.
The numbers aren't much better against the Rays even when taking into consideration the Blue Jays' home games. Toronto did win a series against Tampa Bay at Rogers Centre earlier this year, but it marked the first series victory since August 2010, and overall, the Blue Jays have lost 19 of their past 26 games to the Rays.
The Rays haven't exactly been hospitable hosts, but while the poor skid is hard to explain, it's not entirely surprising considering how good Tampa Bay has been for the past few years.
"It's like they have some magic down here," Gibbons said. "Good things seem to happen for them -- late-game heroics, with the homer and walk-off wins, they've been doing that for years. But they play a good style of baseball. They don't make many mistakes."
The Blue Jays had plenty of opportunities to score during the early stages of Tuesday's game but were unable to come through against an at-times-erratic Matt Moore. The Tampa Bay left-hander walked five batters in the first three frames, but Toronto was able to capitalize on the situation just once.
Toronto scored in the second on an RBI single by Maicer Izturis, but it was a blown chance in the third that proved to be the turning point of the game. The Blue Jays loaded the bases with just one out but were unable to bring a runner home as both Rajai Davis and Colby Rasmus struck out to end the inning.
Toronto's lineup managed to go just 1-for-8 with runners in scoring position while stranding 11 runners. That production comes on the heels of a recent 11-game winning streak when the club outscored its opponents by a count of 70-27.
"All of those walks are really difficult to pitch through, but he did," Rays manager Joe Maddon said of Moore, who also struck out 11 over six innings. "The fourth inning through the sixth, he really got a lot sharper. ... I thought he kept getting better and that's why I left him out there."
Blue Jays left-hander Mark Buehrle entered the game having recorded a quality start in six of his past eight outings but struggled early. For the most part, he managed to pitch out of difficulty, with the exception of a three-run fourth inning when Tampa Bay had a pair of sacrifice flies and rookie Wil Myers added an RBI single.
Buehrle surrendered four runs on eight hits while issuing a season-high four walks over just five innings of work. The four earned runs were the most Buehrle had allowed since May 17th in New York when he surrendered five to the Yankees.
"Up in the zone a lot, fell behind guys -- not getting strike one, you're going to be in trouble all night long," Buehrle said. "I made a few pitches when I needed to and they put the ball in play. That's why this game is frustrating.
"You're missing your spots and you make a good pitch and they put the ball in play. Whether it's a broken-bat base hit or finding a hole."
The Blue Jays will attempt to avoid the three-game sweep during the series finale on Wednesday afternoon. Toronto hasn't been swept in a series that lasted at least three games since April 25-28 in New York against the Yankees.
Gregor Chisholm is a reporter for MLB.com. Read his blog, North of the Border, and follow him on Twitter @gregorMLB. This story was not subject to the approval of Major League Baseball or its clubs.