Estrada stops rehab assignment after setback
Estrada stops rehab assignment after setback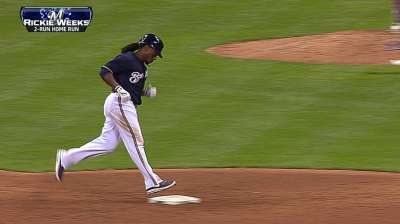 MILWAUKEE -- The Brewers were hopeful Marco Estrada's Sunday rehab start with Class A Wisconsin would be the final step before he returns to the rotation. Instead, Estrada experienced a setback with tightness in his left hamstring, the same one that sent him to the disabled list on June 5.
Brewers manager Ron Roenicke said Estrada would freeze his rehab assignment and start throwing bullpen sessions again when his hamstring is close to 100 percent.
"Marco had a setback, so he's off the rehab assignment," Roenicke said. "We've got to get this thing where it's -- I don't know if it'll be 100 percent, but it's got to be a lot better before he goes out and does this again. I would say that we've got to back off a lot on his bullpens until that leg clears, and then we start the bullpens up again."
Estrada lasted just 2 2/3 innings Sunday, allowing eight hits and six earned runs. He struck out five in the first two innings but gave up all six of his runs in the third inning, five coming with two out.
He said he felt his hamstring tighten up in the third.
"I'm going to need a little bit more time, but I'm not sure how much," Estrada said. "What I've been feeling in bullpens is what I felt the first two innings. It was just a little here and there, but I could deal with it. The third, it was just [not good].
"The only way I'm going to know how it feels again is getting back on the mound."
The Brewers have been forced to use nine different starting pitchers this season with numerous injuries to their staff. Roenicke eluded to Donovan Hand, who made his first Major League start Saturday against the Braves, as an in-house solution. But he also said the team talked about making a call to the Minor Leagues to keep the bullpen intact.
"We still have the guys; Handy did a nice job, I don't mind putting him back up there," Roenicke said. "Then we'll see where we are as far as the bullpen. You just have to fill the spots. We have the guys to fill the spots, but then you got to have somebody to fill in that spot.
"We're going to have to wait and see. It's more medically where we are and how long it's going to be with all the guys we've got."
Kevin Massoth is an associate reporter for MLB.com. This story was not subject to the approval of Major League Baseball or its clubs.