Pena seeking second opinion on shoulder
Pena seeking second opinion on shoulder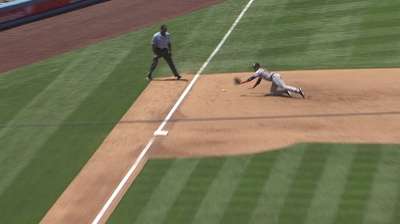 KANSAS CITY -- Braves third baseman Ramiro Pena will get a second opinion on his injured right shoulder in Atlanta on Wednesday. But the Braves are already prepared for the possibility that Pena will need to undergo a surgical procedure that could force him to miss the remainder of the season.
Braves manager Fredi Gonzalez chose not to reveal the first opinion Pena received when he was examined on Friday. But the fact the valuable utility player is seeking a second opinion is certainly not encouraging.
Pena has battled right shoulder discomfort since landing awkwardly while making a diving stop along the third-base line against the Dodgers on June 9. His right shoulder was surgically repaired after he dislocated it while sliding into second base while playing in the Yankees' Minor League system in 2007.
It would be a big blow for the Braves if they were to lose Pena, who is hitting .278 with three home runs and a .773 OPS in 97 at-bats this season. Along with serving as a reliable pinch-hitter, Pena has also proven to be a valuable defender at each of the infield positions.
Without Pena, the Braves might feel a greater urge to at least attempt to find a third baseman before next month's non-waiver Trade Deadline.
While Chris Johnson entered Tuesday with a team-high .320 batting average, his defensive struggles at third base have created concern.
According to FanGraphs, Johnson's -28.5 UZR/150 defensive rating matches Milwaukee's Aramis Ramirez for the 45th-worst mark among all third basemen who have played at least 100 innings this season.
In the 22 games Johnson has played at third base since the Braves traded his former platoon partner Juan Francisco, he has committed four errors and produced a .907 fielding percentage.
Mark Bowman is a reporter for MLB.com. This story was not subject to the approval of Major League Baseball or its clubs.