Uggla adjusting to wearing contact lenses
Uggla adjusting to wearing contact lenses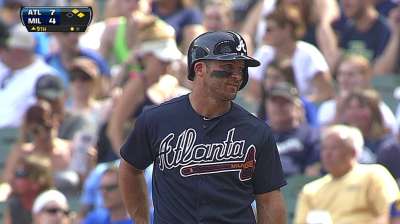 KANSAS CITY -- As he prepared for Tuesday night's game against the Royals, Braves second baseman Dan Uggla said he is still trying to get used to the contact lenses he began wearing for the first time last Thursday.
Uggla did not report any problems during Friday night's game against the Brewers. But after experiencing blurred vision while batting the next two days, he opted to remove the contact lenses for his final two plate appearances of Sunday's series finale in Milwaukee.
"I can see clear with them, so I know that they are working," Uggla said. "But when I'm in the box, it's not good."
While not wearing his contacts on Sunday, Uggla recorded a single and was denied a potential double when his seventh-inning drive down the left field line was ruled foul.
Still Uggla entered Tuesday with the understanding that he needs to give himself a chance to get used to the contact lenses. When he was diagnosed with astigmatism during Spring Training, he ditched the contacts he was given after just a couple days.
The decision proved unwise as he spent a significant portion of this season routinely ducking out of the way of breaking balls that have been called strikes. Uggla received this latest pair of contact lenses after undergoing a variety of tests in Atlanta on Thursday.
"The comfort thing is not bad," Uggla said. "When I tried [the contacts] out in Spring Training, the comfort was awful. But the comfort is not the problem. I just got to get used to them. I think I just need to start putting them in when I wake up and take them out when I go to sleep. Not just put them in when I get to the field and take them out after the game."
Uggla will likely explore the option of undergoing LASIK surgery after the season. But he has no desire to undergo the procedure during the season. If Uggla were to do so, he would likely miss at least two weeks.
Mark Bowman is a reporter for MLB.com. This story was not subject to the approval of Major League Baseball or its clubs.