Knee problems persist for rehabbing Hart
Knee problems persist for rehabbing Hart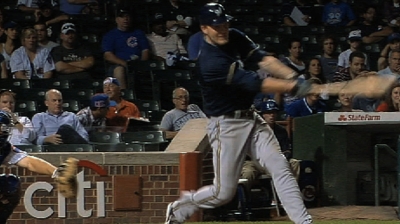 MILWAUKEE -- Brewers manager Ron Roenicke said Corey Hart will head to Los Angeles on Wednesday to get a second opinion on his left knee.
According to Roenicke, Hart has some pain and swelling in his left knee, throwing another curveball in the outfielder's attempt to get back on the field from surgery on his right knee in January.
Brewers assistant general manager Gord Ash said Hart will see Dodgers team physician Dr. Neal ElAttrache.
"He's going to see one of the doctors in L.A. to just get another opinion of what's going on," Roenicke said. "It's disappointing to him … we'll see."
Hart went under the knife in January to repair a small tear in his meniscus and has continually pushed back his return date, which originally sat in late May.
The Brewers miss Hart's pop in the middle of their lineup, especially while Ryan Braun remains out with a thumb injury and Aramis Ramirez's power numbers dipping while he plays through a left knee injury.
The Brewers entered Monday with 70 home runs, 22nd in baseball. Milwaukee was fourth in the league in homers a year and tops in the National League with 202, 30 coming from Hart.
Meanwhile, Roenicke said Braun may start to swing a bat soon to help the Brewers get a better idea on a return date. Braun was placed on the 15-day disabled list on June 14, retroactive to June 10, with a right hand injury and was eligible to return on Tuesday.
"We're going to have him, whether it's every third, fourth day or every week, get a bat in his hands, start swinging and see how it feels," said Roenicke, noting Braun has not yet handled the bat. "I've talked about it with the trainers, I've talked to Gord [Ash] about it, and it's too hard to put any kind of a date or timetable on it. The doctors say it's really hard to tell, and the hand specialist said the same thing."
Kevin Massoth is an associate reporter for MLB.com. This story was not subject to the approval of Major League Baseball or its clubs.