Arroyo's off night costs Reds in Oakland
Arroyo's off night costs Reds in Oakland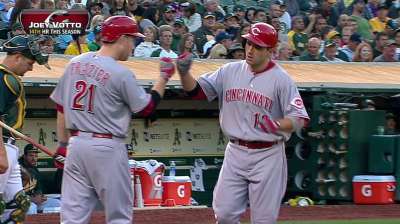 OAKLAND -- The A's formula for success against the Reds Tuesday night wasn't just to stack a bunch of lefty hitters and switch-hitters against Bronson Arroyo.
It was also the approach that those hitters took that had Arroyo conceding he was also beaten at the mental game following a 7-3 loss.
"They flipped the tables on me tonight," Arroyo said. "I usually pitch off the beaten path, and they came at me with an approach that was a bit awkward."
Arroyo lasted a season-low four innings and gave up a season-high seven earned runs. It was the first time he did not complete five innings since pitching three innings on July 16, 2012.
Entering the night, Arroyo had a 1.57 ERA over his previous four starts. For the overall season, opposing right-handed hitters were batting .211, while the lefty hitters were at .303.
Oakland's lineup featured seven lefty or switch-hitters.
"That's vintage American League -- to have a whole bunch of left-handed hitters or switch-hitters they throw at you," Reds manager Dusty Baker said.
The A's started swinging early in counts and driving the ball with more authority in the second inning, and they took a 2-0 lead. Brandon Moss hit a first pitch for a one-out double to the gap in left-center field before first-pitch-swinging Josh Donaldson reached on an infield single to shortstop. Josh Reddick laced a 1-0 pitch for a double to deep center field to score a run. Stephen Vogt's sacrifice fly to center field scored another.
In a four-run A's third inning, the right-handed hitters joined in. Yoenis Cespedes lined a RBI single to right field. After a Moss sacrifice fly to right field, the righty-hitting Donaldson banged an Arroyo first pitch for a two-run homer to left field that made it a 6-0 game.
"I wasn't surprised that they swung early. I was surprised at some of the pitches that they swung early on," Arroyo said. "Donaldson hit a first-pitch breaking ball out of the park after seeing a changeup his first at-bat and rolled one over to the shortstop for a hit."
Joey Votto got one run back by leading off the fourth inning with a home run to left field against A's lefty Tommy Milone. A chance to add more was hurt after Todd Frazier hit a bullet off the left-field wall. Headed to second base, Frazier scampered back to first on Cespedes' good throw, but Frazier was tricked into a rundown by Moss at first and was tagged out.
Oakland added another run in the bottom half on Seth Smith's two-out RBI single to center field.
"We have a lot of guys in our lineup that can do some damage, not just hitting home runs but getting on base," Donaldson said. "It's kind of funny, I look over there, and they have bigger names, but I feel we kind of resemble each other in a lot of ways. Both teams are fairly patient at the plate, and up and down the lineup you have guys that can do something at any time."
The last time Arroyo didn't complete six innings was May 29 at Cleveland when he allowed five runs over 5 2/3. The Indians used a combo of seven lefties and switch-hitters in that game as well.
"They just had a great approach against me, to be honest with you," Arroyo said. "I predicate my game on being able to play a mental chess match with guys and beating them to the move first. They just beat me to the punch. They did some things I didn't expect them to do. I wasn't that familiar with the lineup. That mixed with me feeling like I was a bit pigeonholed when I wasn't able to have a sharp enough breaking ball, even against the righties. That made it very difficult."
The Reds bullpen did not allow another hit over four scoreless innings while the lineup inched back into the game, but missed chances to come all the way back.
In the fifth, Cesar Izturis hit a one-out double and later scored on a Shin-Soo Choo sacrifice fly. Milone issued walks to each of his next three batters, including Jay Bruce with the bases loaded to bring the tying run to the plate. Milone was pulled, which meant he could not get a victory.
Submarine-style righty reliever Pat Neshek needed only three pitches to strike out Chris Heisey. Cincinnati had the bases loaded and two outs again in the sixth, but lefty reliever Jerry Blevins got Votto to pop out to shallow left field.
Another two-out chance came in the eighth against Sean Doolittle when Derrick Robinson's career-high fourth hit of the night -- a double to shallow right field -- put runners on second and third base. Doolittle got Choo to fly out to left field and escaped.
The Reds left 11 men stranded on the night.
"Tough game today. We outhit them [10-7] and left a lot of men on base," Baker said.
Cincinnati has dropped four of its last five games, including a 1-3 start to the eight-game road trip. Wins by first place St. Louis and second-place Pittsburgh have the 45-33 Reds now 3 1/2 games out.
Mark Sheldon is a reporter for MLB.com. Read his blog, Mark My Word, and follow him on Twitter @m_sheldon. This story was not subject to the approval of Major League Baseball or its clubs.